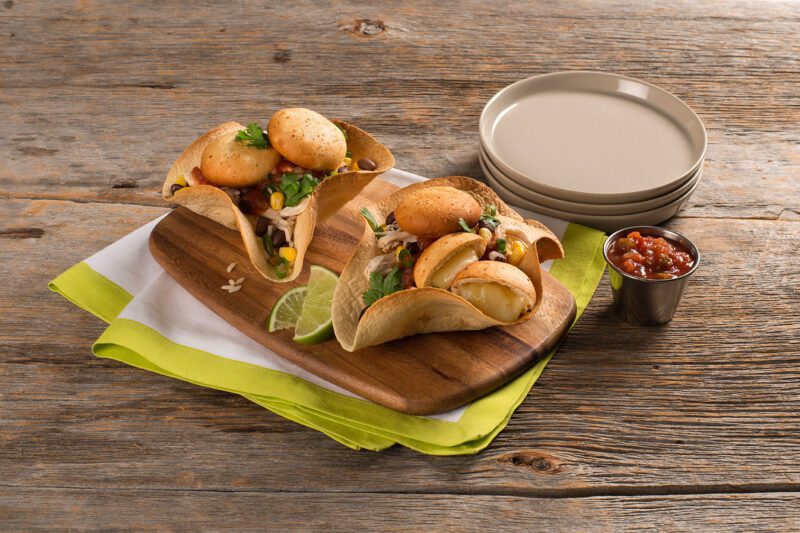 Cheesy Chicken Taco Bowl
15 mins Prep Time

20 mins Cook Time

Difficult Level
Recipe Description
Mix chicken, rice, corn, Mozzarella Bites and more in this simple dinner idea.
Summary
Recipe Name
Published On
Preparation Time
Cook Time
Total Time
Ingredients
12 Farm Rich Mozzarella Bites

6 flour tortillas, 7 inch

1 tsp canola oil

1 1/3 cups cooked chicken, shredded

1 cup cooked rice

1 cup canned black beans (drained and rinsed)

1/2 cup frozen corn, cooked

1/2 cup salsa

1 green onion, thinly sliced

2 TBSP fresh cilantro, finely chopped

Sour cream, optional

Guacamole, optional

Lime wedges, for serving
Steps
Cook Mozzarella Bites according to package directions.
Preheat oven to 375°F. Brush both sides of tortillas with oil. Turn 12-cup muffin tin upside down. Nestle tortillas in the space between 4 cups to form "bowls." Bake, in two batches, for 8 to 10 minutes or until crisp and golden. Let cool completely.
Stir together chicken, rice, black beans and corn; divide among 6 taco bowls.
Top with Mozzarella Bites and salsa. Garnish with green onion and cilantro. Serve with lime wedges.
Add a dollop of sour cream or guacamole to the taco bowls, if desired.