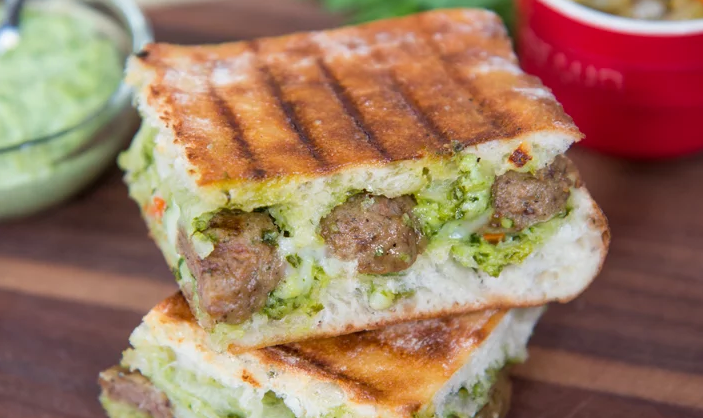 Meatball & Pesto Panini
Prep Time

Cook Time

Medium Level
Recipe Description
Let's face it: everyone loves a hot, crispy panini. With Farm Rich Meatballs, you can create this amazing Meatball & Pesto Panini recipe anytime you're in the mood for a toasty, satisfying sandwich. It's a huge upgrade to a boring, everyday sandwich.
The Big Game
The big game is coming up, and, let's be honest, it's all about the game day grub. This Meatball & Pesto Panini is so good, you're going to be named the MVP of the party.
This mouthwatering panini recipe can be doubled (or tripled, or more) to accommodate your game day crew. Just grab a few extra loaves of ciabatta and some extra Italian Style Meatballs, and you're on your way to an easy big game appetizer.
Weeknight Dinners
When your family is tired and hungry after a long day, you need dinner on the table fast. This Meatball & Pesto Panini satisfies every time. You can make the pesto ahead of time so it's ready when you are, or you can buy prepared pesto for an even quicker meal. The secret is the delicious Italian Meatballs anyway. This savory sandwich is a weeknight family favorite.
School (or Work) Lunch
Wrap this Meatball & Pesto Panini in foil for a school lunch that feels different than the boring, everyday turkey or peanut butter and jelly. Your kids will thank you. Throw one in your bag before work for lunch, and you'll thank yourself.
Summary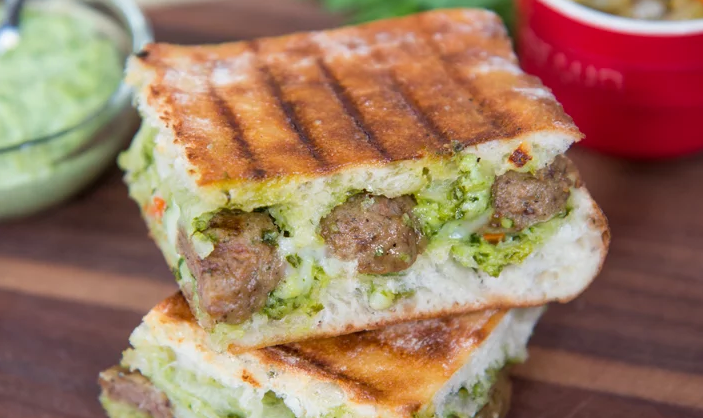 Recipe Name
Author Name
Published On
Ingredients
For the sandwich:

1 package of Farm Rich Italian Style Meatballs

1 loaf of ciabatta bread

1 cup of mayonnaise

1 jar of giardiniera

1 package of sliced provolone or mozzarella cheese

Olive Oil

FOR THE PESTO:

1.5 packed cups of Italian flat leaf parsley

2 cloves of garlic

Zest of 1 lemon & 1 tablespoon of lemon juice

¼ cup roasted & unsalted cashews/peanuts/walnuts

2-3 tablespoons grated pecorino romano cheese

¼ cup extra virgin olive oil

¼ teaspoon kosher Salt

Couple cracks fresh pepper
Steps
Heat your Farm Rich Meatballs in the oven according to package instructions. Remove and set aside.
For the pesto, add the nuts to a food processor and pulse for 10 seconds. Add all of the remaining ingredients except the cheese and olive oil, and run the processor until everything is well combined, about 10-15 seconds. With the machine running, slowly add the olive oil and process until combined and very smooth. Add the cheese and process another 10 seconds. Turn the machine off and taste the pesto; it might need more cheese or lemon juice. If the consistency is a little dry, add 2-4 tablespoons more of oil while the machine is running. In a separate bowl, mix some pesto with an equal portion of mayo and set aside.
For the sandwich, slice the ciabatta bread in half and then in sandwich size portions. Schmear a good amount of pesto mayo on both sides of the bread. Add a few slices of cheese to the bottom half of the bread along with some of the giardiniera. Slice the warm meatballs in half and layer them on the sandwich. Top the meatballs with another few slices of cheese and then the top layer of bread.
Preheat a cast iron grill pan over medium heat and brush a little bit of olive oil on both sides of the crust. Grill for 5-7 minutes on each side with a panini lid or another pan pressing down on the sandwich. You can even do this in a flat cast iron pan if you don't have a grill pan. After the sandwich has flattened by half and the cheese looks nice and melted, remove from heat. Cut the sandwich in half and enjoy!