7 Ways to Homegate
Like a Pro
Let's face it: few of us will ever actually attend America's biggest football matchup, but we all love watching and celebrating from home or at a fun gathering with friends.
For many, this is the event of the year. But with only 18 percent of sports fans actually participating in tailgating, reports CNN, the majority of fans will be enjoying the game at home or at a get-together with friends. And that calls for something special – a Homegate! You can create your own fantasy football spread right at home for the family and kids as well as special guests – and you don't have to haul everything off-site or worry about the weather.
To Homegate like a pro, here are 7 easy ways to pull off a Win.
1. 'Kick' Back!
Add lots of easy, comfy seating so no one's left standing during game time and everyone has a seat for the big show (and sometimes mishaps!) at halftime. Strategically rearrange furniture and move tables out to give room for extra chairs, bean bags and floor cushions. Set up a small table for kids to the side like Britni from Play. Party. Plan. for activities and a place to enjoy party snacks. Place the TV screen where everyone has a great view. Or even have another TV playing the game in a second room, also decked out for game day.
2. A Buzzworthy Buffet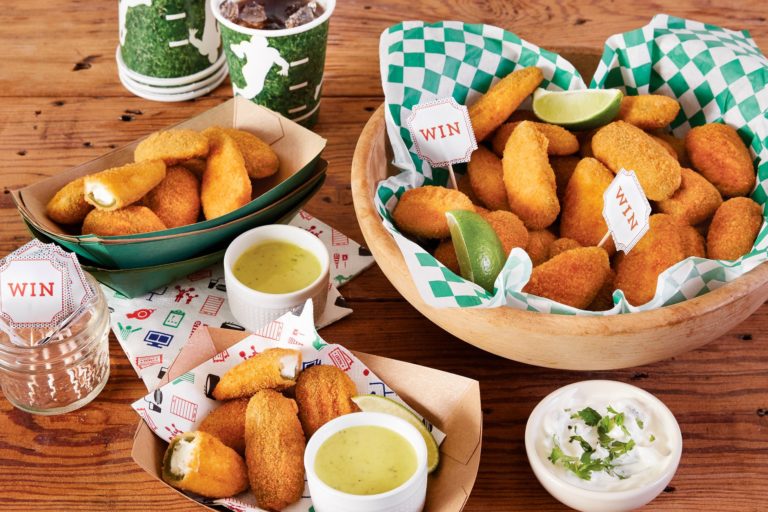 Make the food the star with a buffet everybody will be buzzing (and posting) about. You could go all out and build a Snackadium. But if that's not in your playbook, think of a wide range of foods, colors and textures, served in clever, mix-and-match containers, even served at different heights. Add a full range of hearty foods like everyone's favorites: Mozzarella Sticks and Jalapeño Peppers from Farm Rich, with a variety of dips (ranch, marinara, honey mustard, chipotle). Or fill a slow cooker with savory and tangy Pomegranate-Glazed Meatballs. Farm Rich makes a wide variety of ultra-convenient snacks and apps and are an easy pick-up on your weekly grocery run.
3. No Boredom Here

Little ones may easily get bored watching football all night so set them up with their own homegate games and crafts, like these DIY Football Placemats from Living Sweet Moments. Put some fun but simple games out as well, like Referee Balloon Pop and Pass the Helmet. Diehard sports parents will be eternally grateful if you can distract their kids for a while.
4. Your Recipe Playbook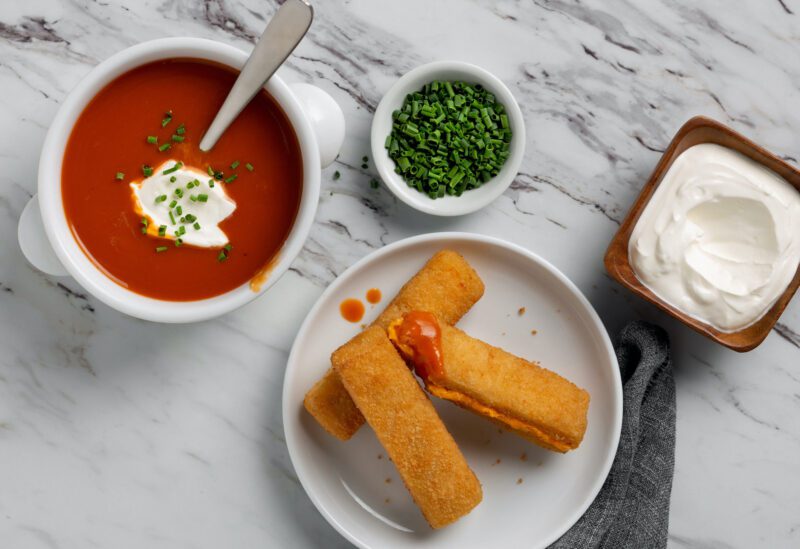 Even though Farm Rich snacks are great right out of the oven (or microwave), they're also a secret play for delicious recipes. For example, use two boxes of Mozzarella Bites, one bag of Italian Style Meatballs and a jar of pasta sauce to make Simple Meatball Mozzarella Stacks. You can also create 2-ingredient Potato Skin Footballs by baking Farm Rich Loaded Potato Skins and piping 'laces' onto the tops using sour cream or ranch dressing. Mix up the classic grilled cheese and tomato soup combo with NEW Grilled Cheese Sticks dipped into fun little containers or bowls filled with Tomato Basil Soup or Slow Cooker Tomato Soup from A Dash of Sanity.
5. Have a 'Field' Day with Décor
Embrace the loud at your homegating party, taking the game theme all the way. We're inspired by Play. Party. Plan.'s game day set-up and printables. Online resources feature a ton of easy and inexpensive DIY ideas ranging from PVC pipe goal posts to artificial turf table coverings to game-play chalkboards to stadium-shaped buffet layouts made from simple cardboard boxes.
6. 'Pass' the Bacon!
There's no meaty ingredient more beloved than bacon – it's a surefire hit. So add this decadently savory taste to your snack spread with this idea from The Debutante Farmer and Chef Elizabeth Heiskell. Whip up her sweet/salty Bacon Bites in 1 hour or less with 2 packages bacon slices (about 22 slices), 2 cups light brown sugar and 1-2 packages of thin breadsticks. Here's how:
Wrap a slice of bacon around each breadstick in a spiral pattern. Place in pan, rolling them in the sugar. Cover and refrigerate overnight (for best results).
When ready, preheat oven to 350 F. Line a 12×7 baking sheet or pan with heavy-duty aluminum foil and spread bottom with the brown sugar.
Bake for 35-40 minutes until bacon is nearly crisp, turning as needed to ensure caramelization. Before they cool, move them to wax paper so they don't stick.
Watch guests gobble them up!
7. Go Stir Crazy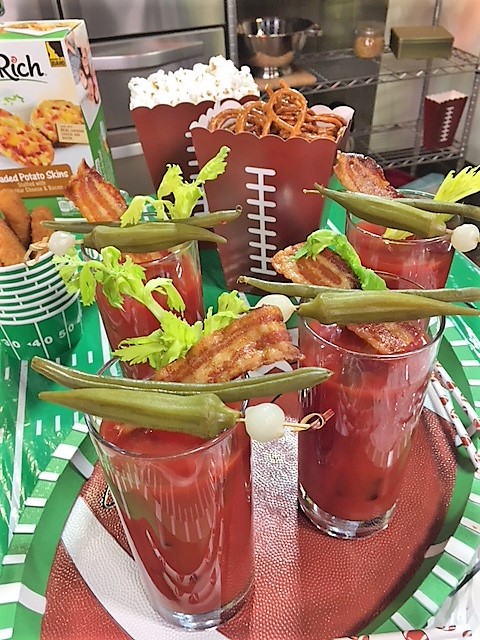 In addition to your standard beverages (water, sodas, beer, etc.) create one or two 'Super' drinks for game day morning that will carry you right up to kick-off. Heiskell recommends a fabulous Bloody Mary station for folks to mix their own concoctions. Sample additions can include a Bacon Bite Stick (see above), pickled okra, pearl onions, carrots, celery (with leaves attached) and color peppercorns in a clear grinder. Another idea? These Blushing Mimosas from Heiskell's new "Southern Living Party Cookbook." Chill and blend 2 cups orange juice, 1 cup pineapple juice, 2 tablespoons grenadine and a 750-milliliter bottle of sparkling wine or champagne. Garnish Mason Jars or champagne flutes (if you want to get fancy) with orange citrus wheels and maraschino cherries. Need a mocktail version? Just substitute the sparkly with two 12-ounce cans of ginger ale.
On Game Day, the host should be having as much fun as everyone else. So, if you're hosting, plan food ideas early, shop 2-3 days out, pre-make or prep any recipes you can and set up your Homegating table the day before. And don't be shy to ask for the assist – get kids or a friend to help out.
Any diehard fan will tell you, on game day, the food is one of the most important plays. For more Homegating inspiration, visit FarmRich.com.