Swedish Style Meatballs
Nutrition Facts

Ingredients

Cooking Instructions
Take your taste buds on a trip with our Swedish Style Meatballs made with beef, pork and a traditional blend of spices. The best part? They make putting together a delicious meal super easy (unlike Swedish furniture).
Summary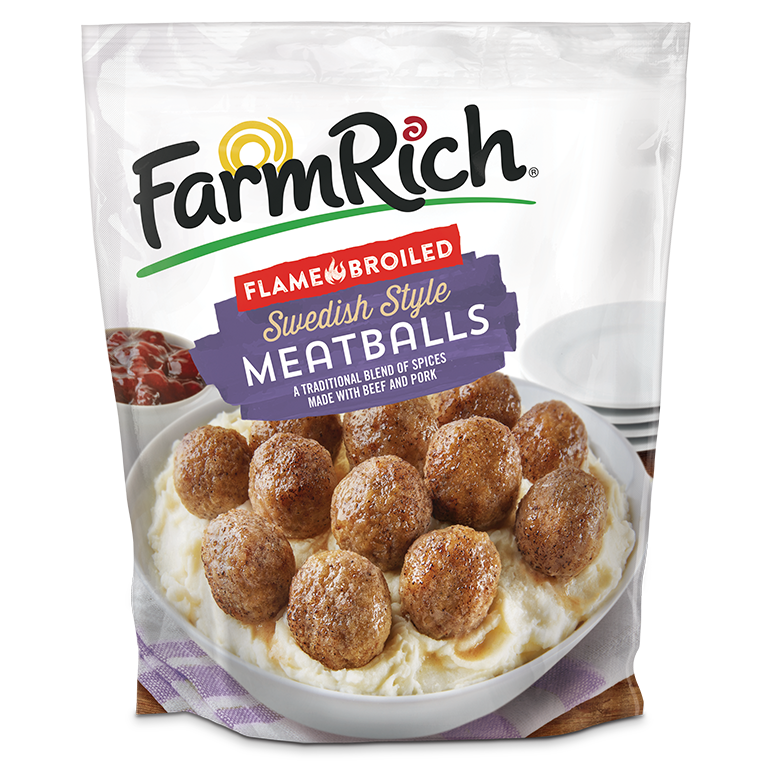 WHERE TO BUY
Nutrition Facts
+
Swedish Style Meatballs
Serving Size 6 meatballs (85g)
Servings Per Container 8
Vitamin D 0.1mcg 0% Calcium 40mg 2% Iron 1.1mg 6% Potassium 240mg 6%
The % Daily Value (DV) tells you how much a nutrient in a serving of food contributes to a daily diet. 2,000 calories a day is used for general nutrition advice.
Summary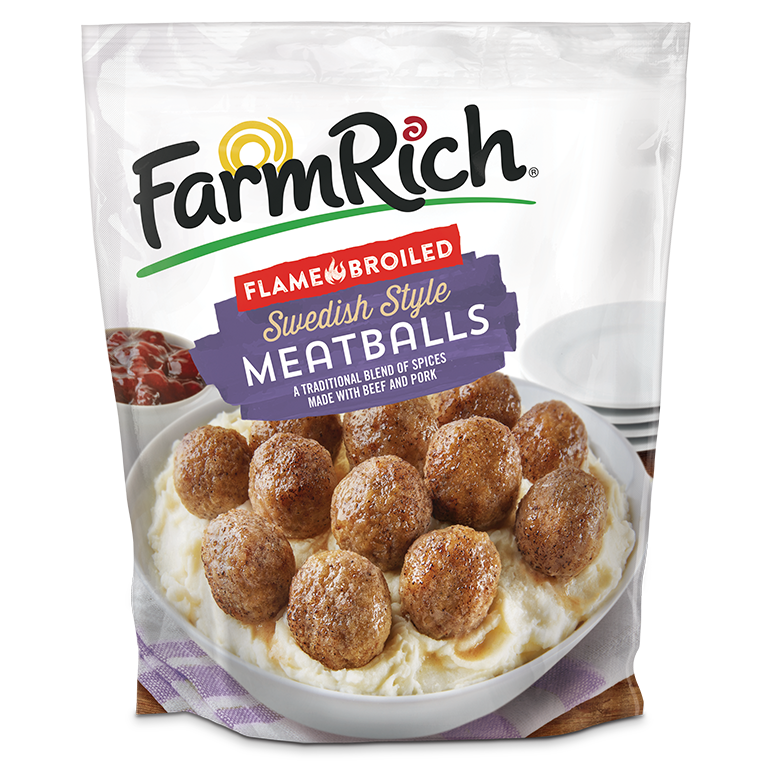 Ingredients
+
SWEDISH STYLE MEATBALLS: BEEF, PORK, WATER, TEXTURED SOY FLOUR, BREAD CRUMBS (WHEAT FLOUR, SALT, YEAST), SOY PROTEIN CONCENTRATE, DEXTROSE, CONTAINS LESS THAN 2% OF THE FOLLOWING: DRIED ONION, CORN SYRUP SOLIDS, SALT, SPICES, SODIUM POLYPHOSPHATE, CANOLA OIL, NONFAT DRY MILK, NATURAL FLAVOR, SILICON DIOXIDE ADDED AS AN ANTI-CAKING AGENT.
CONTAINS: MILK, SOY, WHEAT.
Summary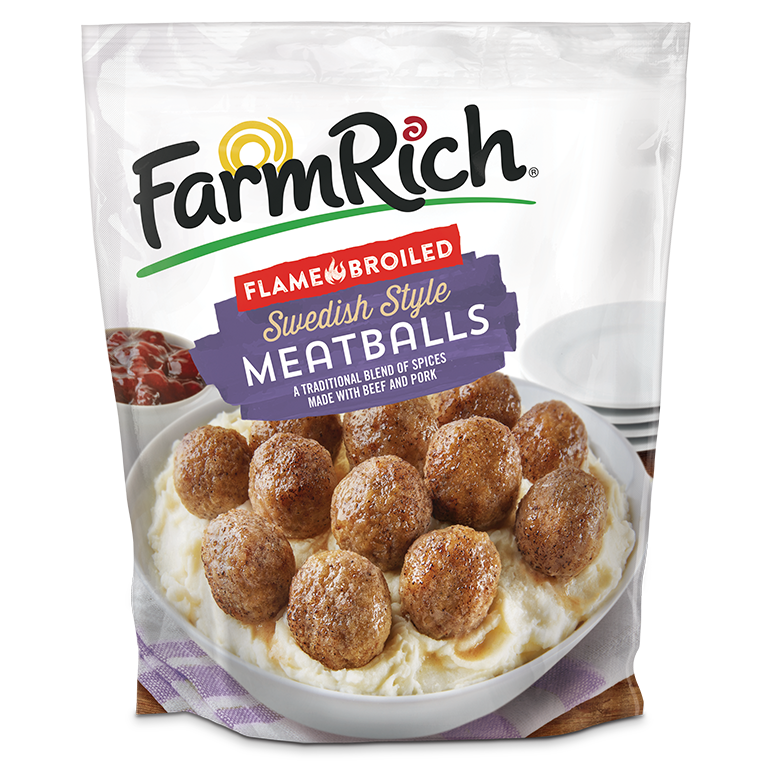 Cooking Instructions
+
Due to differences in appliances and quantity prepared, heating times may vary and require adjustment. Microwave instructions developed using an 1100 watt microwave oven.
CAUTION: PRODUCT WILL BE HOT!
SWEDISH STYLE MEATBALLS
Conventional Oven
Preheat oven to 350°F.
Arrange product in a single layer on baking sheet and place on middle rack of oven.
Bake for 18–20 minutes (half bag) or 20–22 minutes (full bag).
For best results, turn halfway through heating.
Microwave
Arrange product in center of microwave-safe plate.
Microwave on HIGH 1 serving (6 meatballs) for 1 minute 30 seconds.
Stove Top
Place product in a saucepan and cover product with your favorite sauce.
Set to MEDIUM heat, cover, and heat for 25–30 minutes (full bag), stirring often.
Slow Cooker
Place product in slow cooker and cover product with your favorite sauce.
Heat on HIGH, covered, for 3–4 hours (full bag).
Air Fryer
Preheat air fryer to 350°F.
Arrange product in a single layer in air fryer.
Air fry 3 servings (18 meatballs) for 9-10 minutes.
Summary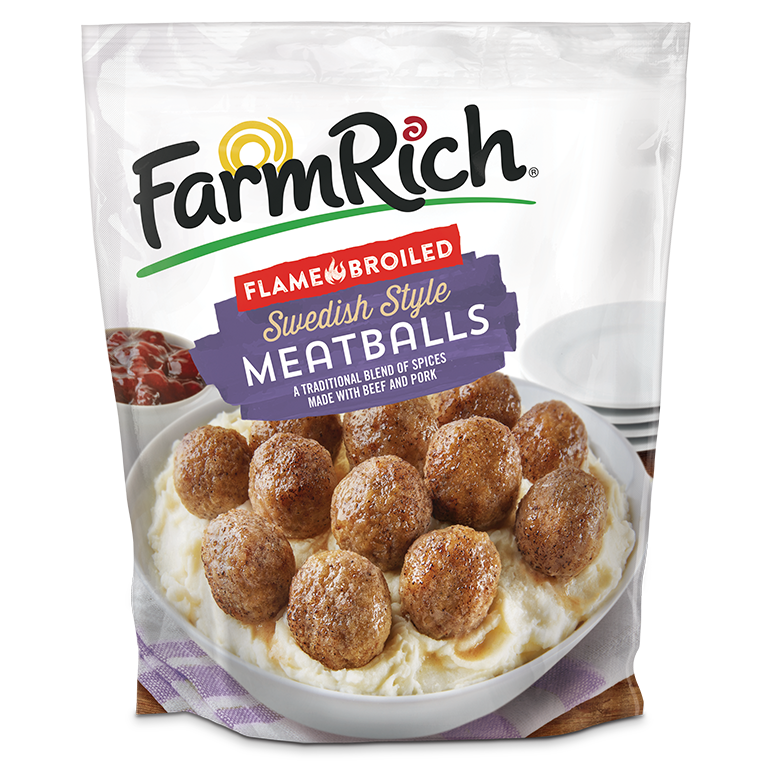 *Please refer to the label on your Farm Rich package for the most current nutrition, ingredient, and allergen information.