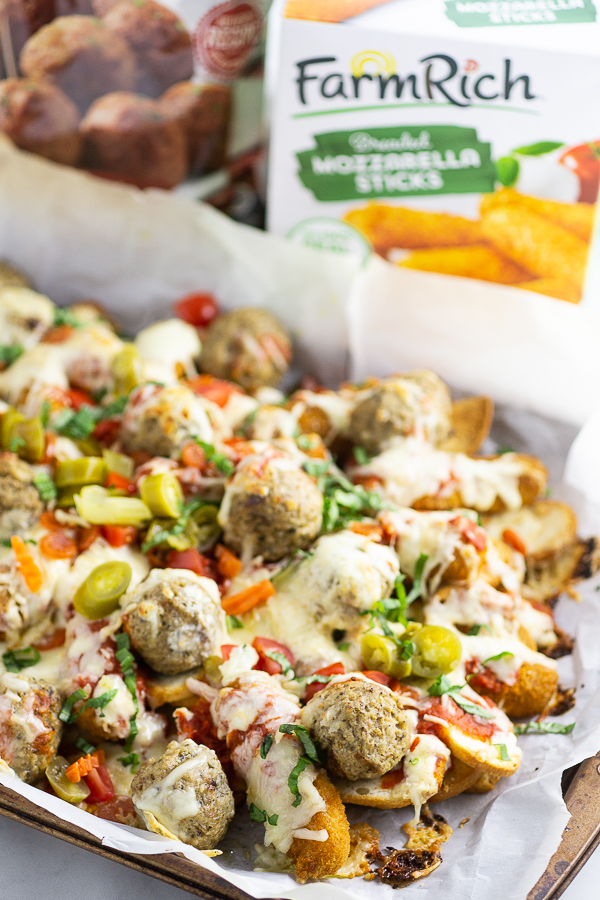 Baked Italian Nachos
20 mins Prep Time

10 mins Cook Time

Medium Level
Recipe Description
Baked Italian Nachos are the ultimate snack and party appetizer with baguette crisps loaded down with Mozzarella Sticks, pizza sauce, meatballs, pepperoni, and lots of gooey cheese.
Summary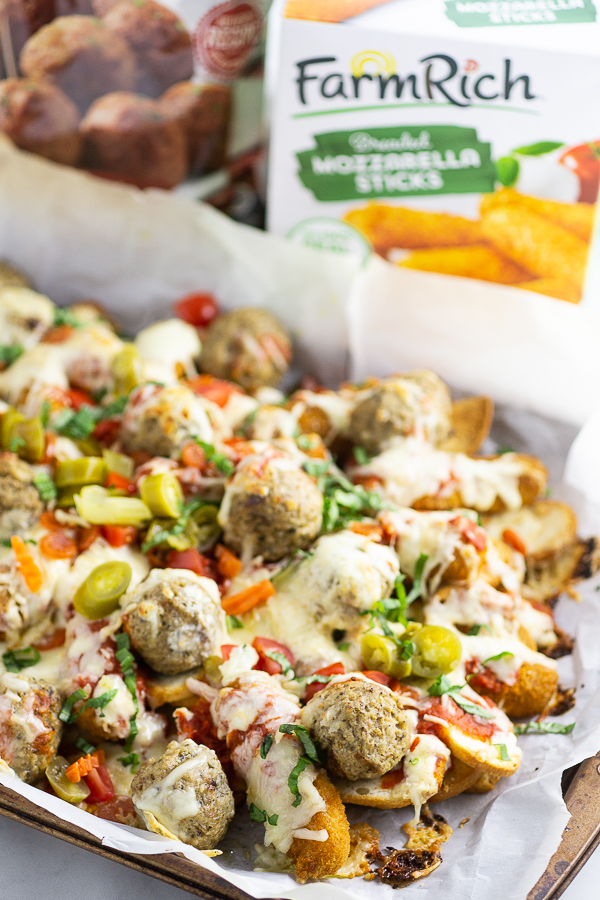 Recipe Name
Author Name
Published On
Preparation Time
Cook Time
Total Time
Ingredients
GARLIC PARMESAN SAUCE

4 tbsp butter

1 tbsp minced garlic

1 cup heavy cream

1/2 cup freshly grated Parmesan cheese

ITALIAN NACHOS

1 package (9 oz) baguette crisps

1 package (24 oz) Farm Rich Mozzarella Sticks

1.5 cups marinara sauce

1 package (26 oz) Farm Rich Italian Meatballs

1 cup shredded mozzarella cheese

1/4 cup mini pepperonis

1/4 cup giardiniera

1 diced Roma tomato

1 tbsp fresh chopped basil
Steps
Bake Mozzarella Sticks according to package instructions. (Bake at 450°F for 10-11 minutes until cooked through). Set aside.
Warm Meatballs up so that they're not frozen. Place them in a microwave-safe dish for about 1.5 minutes, or until warm. (They'll get cooked more in the nachos).
Set aside.
Preheat oven to 450°F.
In a medium saucepan, melt butter over medium heat.
When butter is melted, add garlic. Saute until fragrant, about 1-2 minutes.
Pour in cream, and stir to combine. Heat to steaming, but not boiling.
When cream mixture is hot, add grated Parmesan. Stir until smooth.
Set aside until assembling nachos.
Spread baguette crisps in a layer on a large baking sheet.
Place Mozzarella Sticks on top of baguette crisps.
Drizzle marinara sauce over baguette crisps and mozzarella sticks.
Add Farm Rich Italian Meatballs on top.
Drizzle prepared Garlic Parmesan sauce on top.
Top with shredded mozzarella and mini pepperoni.
Bake at 450°F for about 7-10 minutes, until cheese is melted and bubbly and nachos are cooked through.
When done baking, add additional toppings such as giardiniera, tomatoes, and fresh chopped basil.
Serve immediately while still warm.
For easy clean-up, line your baking sheet before assembling your nachos!
To cook Mozzarella Sticks in the air fryer for this recipe instead of baking, place the full package of mozzarella sticks in the basket of the air fryer. Cook at 360°F for about 10 minutes, until cooked through.
Just like a pizza, you can customize these nachos to your taste preferences. You can add more or less of anything in the ingredient list, or any topping of your choosing. Try red bell peppers, pepperoncinis, olives, extra Parmesan, mushrooms, bacon, or even pineapple!
Make your own baguette crisps, if you can't find them at the store! Slice a baguette into 1/4-inch slices. Place on a baking sheet. Brush with olive oil and season with salt. Bake at 350°F for about 10 minutes until golden and crispy.