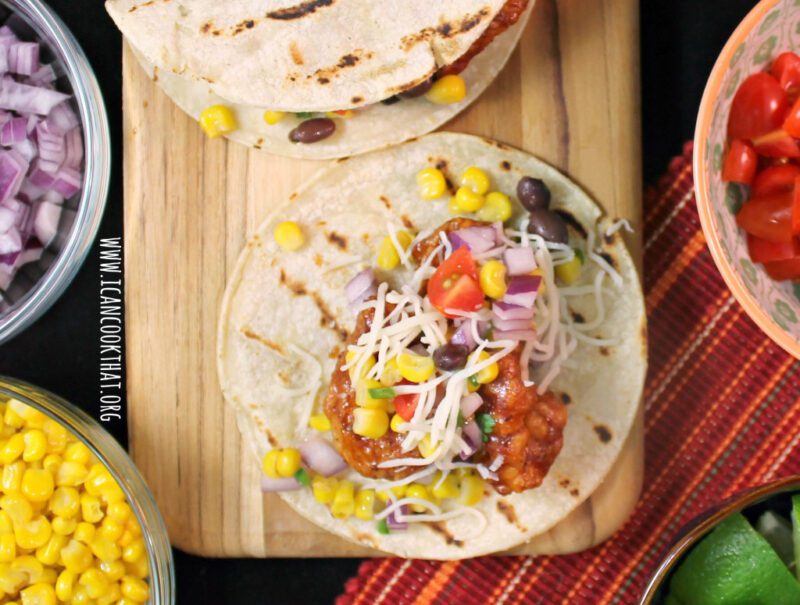 BBQ Chicken Tacos with Corn Salsa
14 mins Prep Time

16 mins Cook Time

Medium Level
Recipe Description
If you are planning on hosting friends and family for the big game, this is a great way to feed a crowd without forcing you to be in the kitchen all day (and all game).
These BBQ Chicken Tacos with Corn Salsa come together in no time and allow even the pickiest eaters to customize their meal to their liking.
What really makes the corn salsa stand out is roasting the corn in the oven beforehand, which can be done while also cooking the BBQ Boneless Chicken Bites. You can have a little taco bar ready to go in just 30 minutes!
Ingredients
FOR TACOS

White corn tortillas

1/2 cup Monterey Jack cheese, shredded

1/2 pint Cherry tomatoes, quartered

1 Jalapeño, ribs and seeds removed, minced

Remaining canned black beans, rinsed and drained

Remaining roasted corn

1/4 cup Sour cream

8 Lime wedges

Cilantro, chopped

FOR ROASTED CORN SALSA

1/2 Red onion, diced

4oz Frozen corn

1/2 cup Canned black beans, rinsed and drained

1 Jalapeño, ribs and seeds removed, minced

1/2 Red onion, diced

1/4 pint Cherry tomatoes, cut into eighths

1/2 tablespoon Olive oil

Juice of one lime

1 tablespoon Cilantro

Salt and pepper, to taste
Steps
Preheat oven to 425°F. Add the unopened sauce packet to a bowl of hot water and let sit for 6-8 minutes.
Arrange the Chicken Bites in a single layer on a baking sheet and place on the middle rack of the oven. Add the entire 16 oz package of thawed frozen corn to a baking sheet. Toss the corn with the olive oil and season lightly with salt and pepper. Add baking sheet to another rack in your oven. (Note: I used a 9-inch square pan for my corn.)
After 8 minutes, flip the chicken, stir the corn and return to the oven for an additional 8-9 minutes.
Remove the corn from the oven and set aside to cool. Remove the chicken from the oven and allow the chicken to rest for 1-2 minutes before tossing in sauce.
Add the chicken to a bowl, and add the desired amount of sauce, tossing to coat. Set aside and cover with aluminum foil to keep warm.
To make the salsa, combine 1 cup of the corn, black beans, jalapeño, red onion, tomatoes, lime juice and cilantro.
Set out bowls containing the remaining ingredients. Heat the tortillas on a grill pan over medium high heat for 1-2 minutes on each side or until grill marks are visible.
Time to dig in! To assemble, add a few pieces of the BBQ chicken bites to a warmed tortilla. Top with the corn salsa, cheese, and any other ingredients.