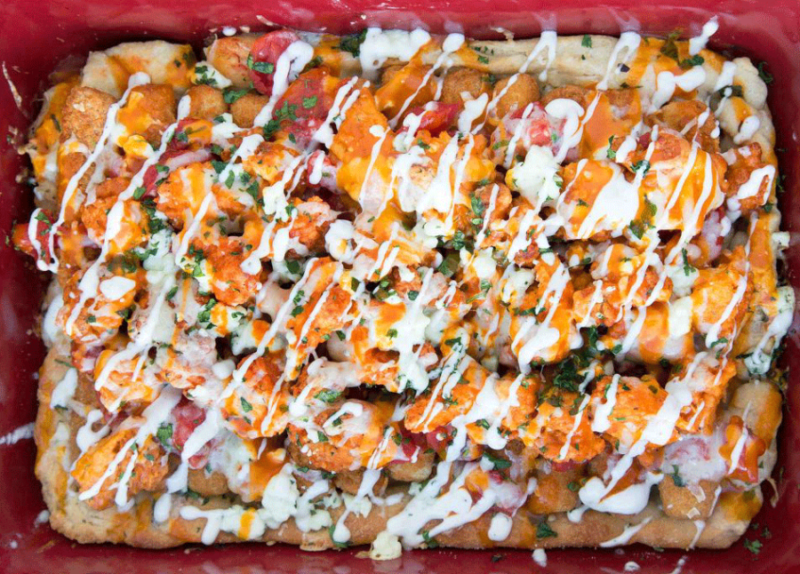 Buffalo Chicken Pizza
10 mins Prep Time

20 mins Cook Time

Medium Level
Recipe Description
Another night, another pizza? Not tonight! With some premade dough and two Farm Rich favorites, this DIY buffalo chicken pizza is ready before pizza delivery even hits the road! Bonus: Farm Rich Buffalo Style Chicken Bites come with the buffalo sauce!
This pizza is great for a game day party or pizza night with friends and family.
Summary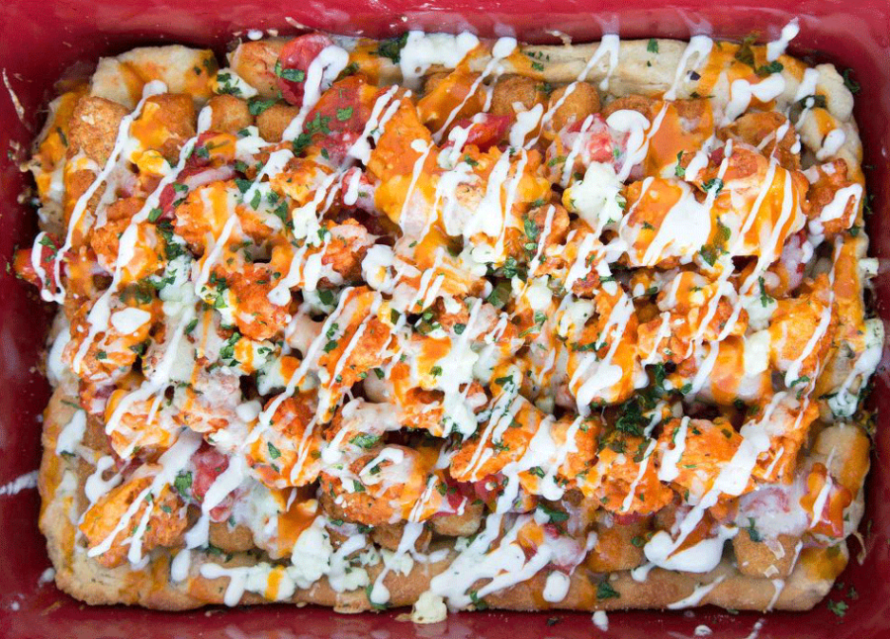 Recipe Name
Published On
Preparation Time
Cook Time
Total Time
Ingredients
1 box Farm Rich Mozzarella Sticks

1 box Farm Rich Buffalo Style Boneless Chicken Bites

1 premade pizza dough

1 14.5 ounce can diced tomatoes – drained

1 cup shredded cheddar cheese

1/4 cup blue cheese crumbles

2 tablespoons hot sauce or buffalo sauce

2 tablespoons ranch or blue cheese dressing

1 tablespoon chopped Italian Parsley

Garlic salt, crushed red pepper, and dried oregano (to taste)
Steps
Place premade pizza dough on a cookie sheet or baking pan. Make a ridge on the outside of the dough to form a crust. Brush the dough with olive oil and season with garlic salt, oregano and crushed red pepper to taste.
Place pizza dough in 400°F preheated oven and bake for 10 minutes or until dough begins to brown. If it puffs up, use a fork to puncture in a few spots.
Place Buffalo Style Boneless Chicken Bites and Mozzarella Sticks on a cookie sheet and place in the oven for 15 minutes at 400°F.
Heat Buffalo sauce that comes with the Chicken Bites as directed on the package and set aside until needed. When it comes time to mix together, cut the chicken into bite-sized pieces before adding the sauce.
Assemble pizza by layering first with Mozzarella Sticks.
Add the drained diced tomatoes.
Add the Chicken Bites.
Add shredded cheddar, blue cheese crumbles and parsley. Return to 400 degree oven for 10 minutes or until the cheese is melted.
Drizzle hot sauce and ranch dressing on top of the finished pizza and serve immediately.