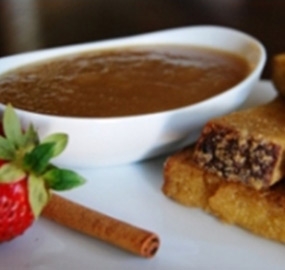 Cinnamon Apple Dip
Prep Time

Cook Time

Medium Level
Recipe Description
When the leaves are falling and the air is getting crisp, it's time to serve this delight.
Sometimes you find a recipe that becomes a kitchen staple: this recipe for a Cinnamon Apple Dip one of those recipes. It's a recipe you will memorize, and you'll likely find dozens of opportunities to use it.
Cinnamon Apple Dip calls for a few simple ingredients you likely already have on hand: applesauce, vanilla, maple syrup, and cinnamon. It comes together in 30 seconds and can be warmed in the microwave in just 2 minutes. Our French Toast Sticks, which are eminently dippable, are divine with this dip. You'll crave this sweet combo.
Cinnamon Apple Dip is also extremely versatile: it's nice served over vanilla ice cream or for dipping fresh apple or pear slices. A spoonful mixed into a warm bowl of oatmeal is amazing. Use it to top pies, cakes, muffins, or serve it as fondue with pretzels. Top it off with chopped pecans or a pinch of sea salt. Honestly, it's so good, you may be tempted to eat it by the spoonful all by itself.
Summary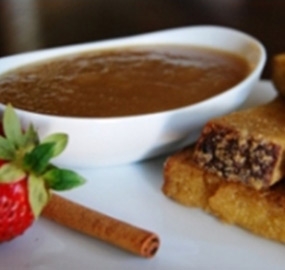 Steps
Prepare Farm Rich Original French Toast Sticks according to package directions.
Mix all dip ingredients in a bowl while French Toast Sticks are baking. Microwave on high for 2 minutes, then remove and stir. Microwave on high for an additional 30 seconds.
Serve with French Toast Sticks.