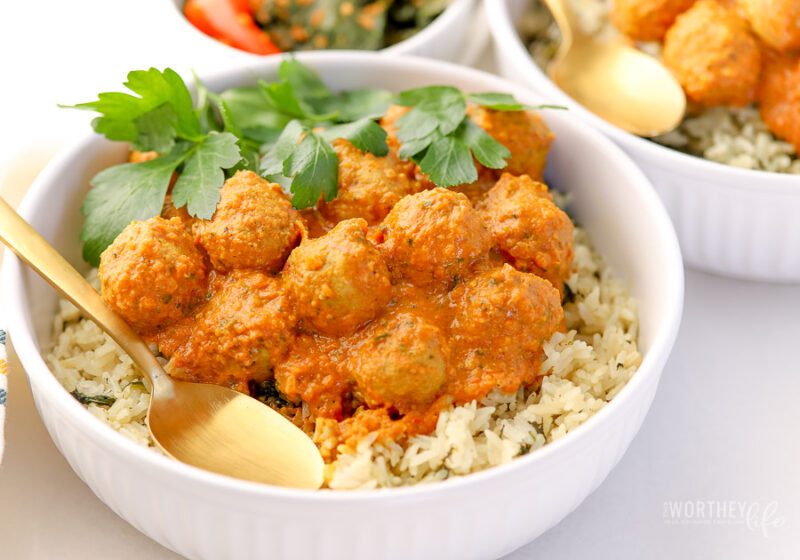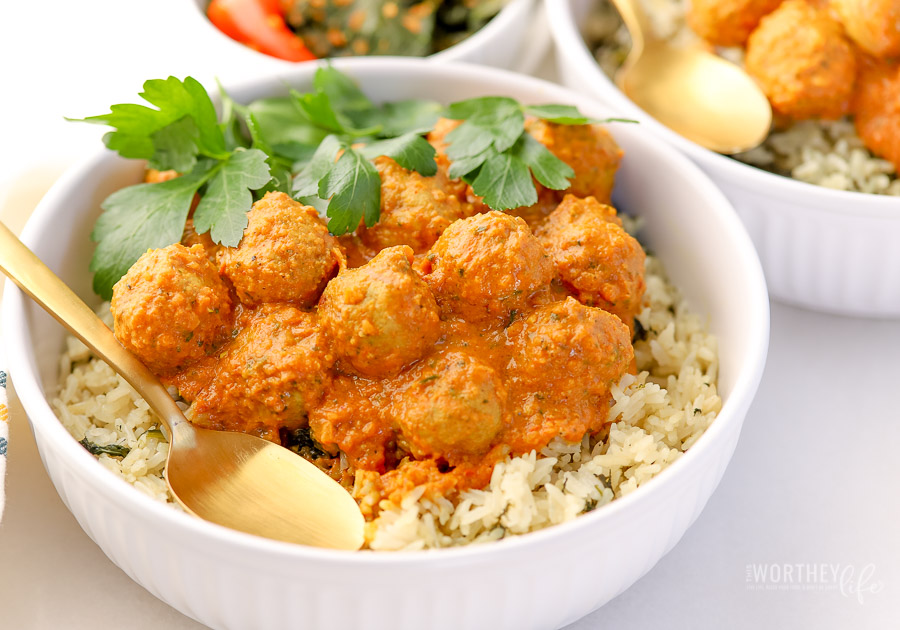 Curry Meatballs and Spanish Rice
30 mins Prep Time

30 mins Cook Time

Medium Level
Recipe Description
This Curry Meatballs and Spanish Rice recipe, is loaded with spice, with curry, turmeric, coriander, and cumin leading the pack. The final result is an under an hour recipe that tastes just as good as it looks.
Summary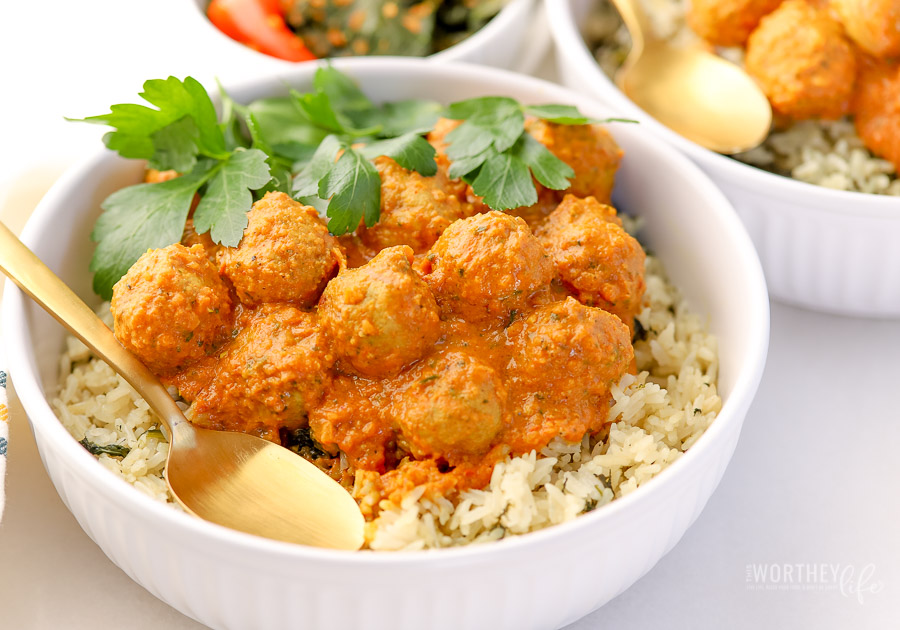 Recipe Name
Curry Meatballs and Spanish Rice
Author Name
Published On
Preparation Time
Cook Time
Total Time
Ingredients
CURRY SAUCE

2 1/2 tbsp extra virgin olive oil

1 tsp crushed red pepper flakes

1 tsp fresh cracked pepper

1 tbsp ground curry

1 tbsp ground cumin

1 tbsp ground turmeric

1/2 tbsp ground coriander

1 tsp sea salt

1/2 cup minced carrots

1 13.5 ounces can coconut milk

1 14.5 ounces can can crushed tomatoes

1 large sweet onion

8 cloves garlic

1/4 cup cilantro torn into pieces

SPINACH RICE

2 1/2 cups long grain rice or Jasmine Rice

3 cups chicken or vegetable stock

5-6 cups fresh spinach washed and with all of the water removed

COLLARD GREENS AND CARROTS

4 cups collard greens, sliced thin

2 cups carrots, minced or run through a food processor

2 cloves garlic, minced

2 tbsp extra virgin olive oil

sea salt

fresh cracked pepper
Steps
Add olive oil and select the Sauté function on the Instant Pot.
When the oil is hot add the onions and garlic and sauté until the onions are translucent, in about 6-8 minutes.
Add the crushed tomatoes and coconut milk and mix well. Sprinkle in the curry, cumin, turmeric, coriander, freshly cracked black peppercorns, and flaky sea salt.
Stir until all of the ingredients are incorporated.
Fold Farm Rich Homestyle Meatballs in into the curry sauce and cover the Instant Pot with the lid and allow the meatballs to heat through. About 20 minutes.
Pour the long-grained rice into the Instant Pot. Add stock until it just covers the rice. Cover the rice with the spinach. Place the Instant Pot lid on and lock into place.
Select the Rice function and cook until the timer sounds.
Vent the Instant Pot and unlock and remove the lid.
Fluff the rice using a fork and continue to mix until the spinach is mix thoroughly and evenly into the rice.
Place a skillet over med-high heat and add the extra virgin olive oil.
When the olive it hot add the collard and little at a time until all of the collard greens are in the skillet.
Add the carrots and garlic, and continue to mix and sauté until the collard greens are bright green and tender in about 6-8 minutes.
Remove from heat and cover with a tight-fitting lid.
Allow the collard greens to steep for five minutes then serve.