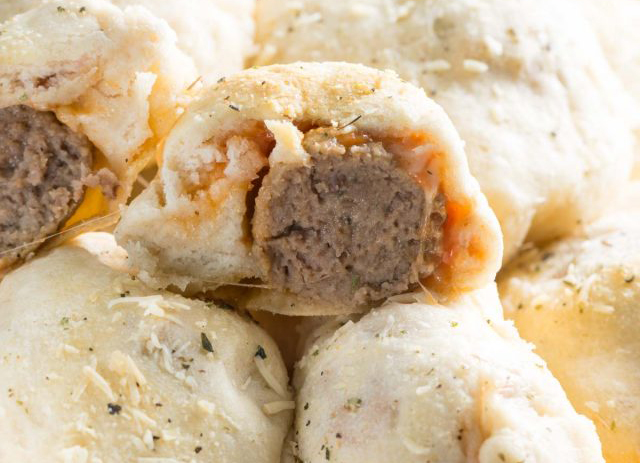 Easy Meatball Sub Bites
Prep Time

Cook Time

Easy Level
Recipe Description
This easy Meatball Sub Bites recipe is perfect for an appetizer or lunch. Wrap frozen meatballs in biscuit dough with sauce and cheese for the perfect bite without a mess!
Summary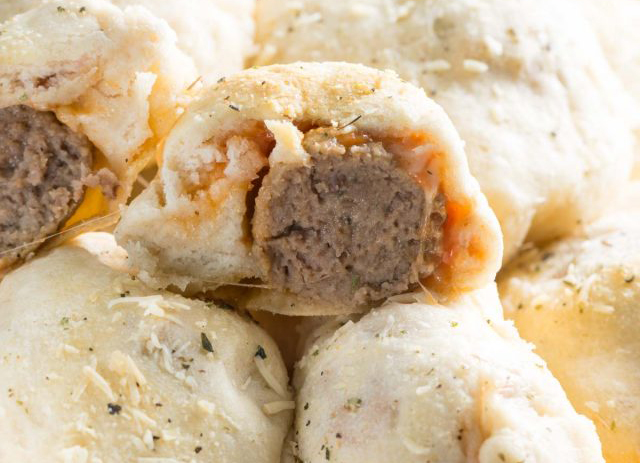 Recipe Name
Author Name
Published On
Ingredients
16 Farm Rich Homestyle Meatballs

1 (approximately 16 ounce) tube refrigerated biscuits (the large size; 8 biscuits)

1/3 cup pasta sauce

1 cup shredded mozzarella cheese

2 tablespoons butter, melted

1/4 teaspoon Italian seasoning

1/8 teaspoon onion powder

1/8 teaspoon garlic powder

Grated Parmesan cheese, for topping
Steps
Preheat oven to 350°F. Spray a 9×13" baking dish with nonstick cooking spray or line a cookie sheet with parchment paper or silicone baking mat.
Place meatballs on a microwave-safe plate or bowl. Add 2 tablespoons of water and cover with a paper towel. Heat for 2 minutes and 30 seconds, then drain and set aside.
Open tube of biscuits. Separate biscuits and slice in half (as if you were making a sandwich). Flatten each biscuit piece slightly with your hands. Place a bit of sauce, some cheese, and a meatball in the center of each biscuit, then fold up and pinch to seal. Place each ball in baking dish or on a cookie sheet. How you bake them is personal preference (touching in a pan or separate on a cookie sheet).
Stir melted butter, Italian seasoning, and onion and garlic powder in a small bowl. Brush over the top of each biscuit. Sprinkle with grated Parmesan cheese.
Bake for 20-25 minutes or until biscuits are cooked through. They won't get very golden on top, because of the butter.
Serve warm with a bowl of more pasta sauce for dipping. Store in an airtight container in the refrigerator for up to 3 days or freeze for up to one month. These are good warm or cold, and are perfect for appetizers or lunches.