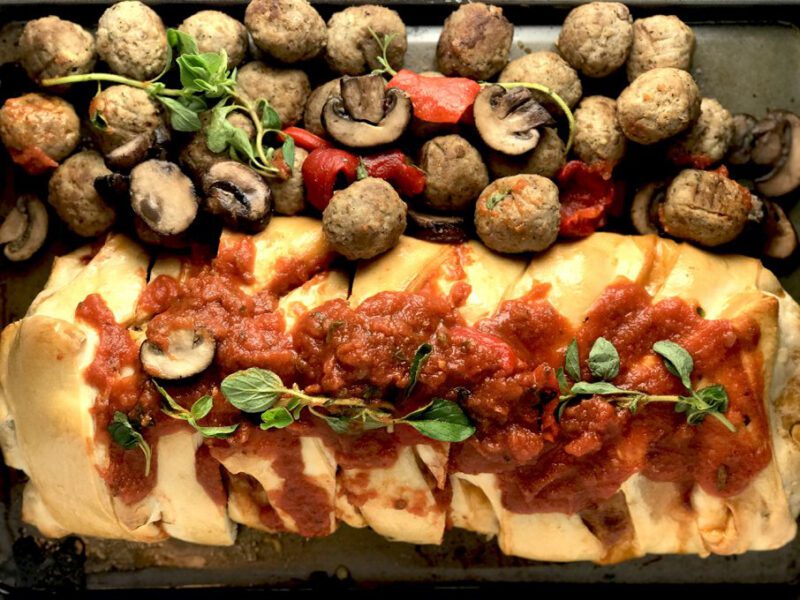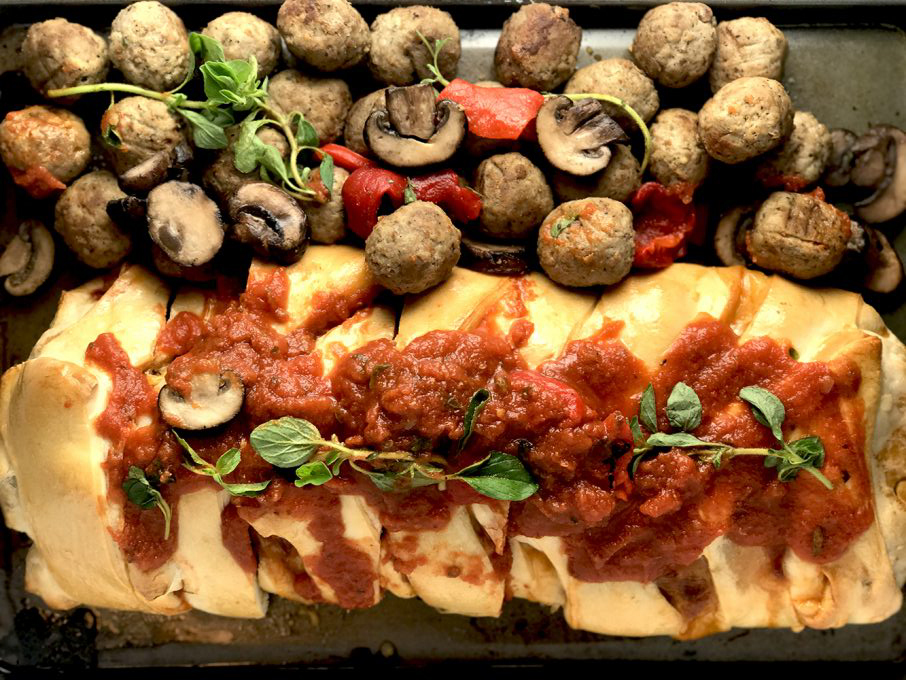 Italian Meatball Stromboli
15 mins Prep Time

25 mins Cook Time

Medium Level
Recipe Description
This tasty Stromboli is a fast, warm, and delicious hot sandwich that is destined to be the MVP of your big game halftime menu.
Summary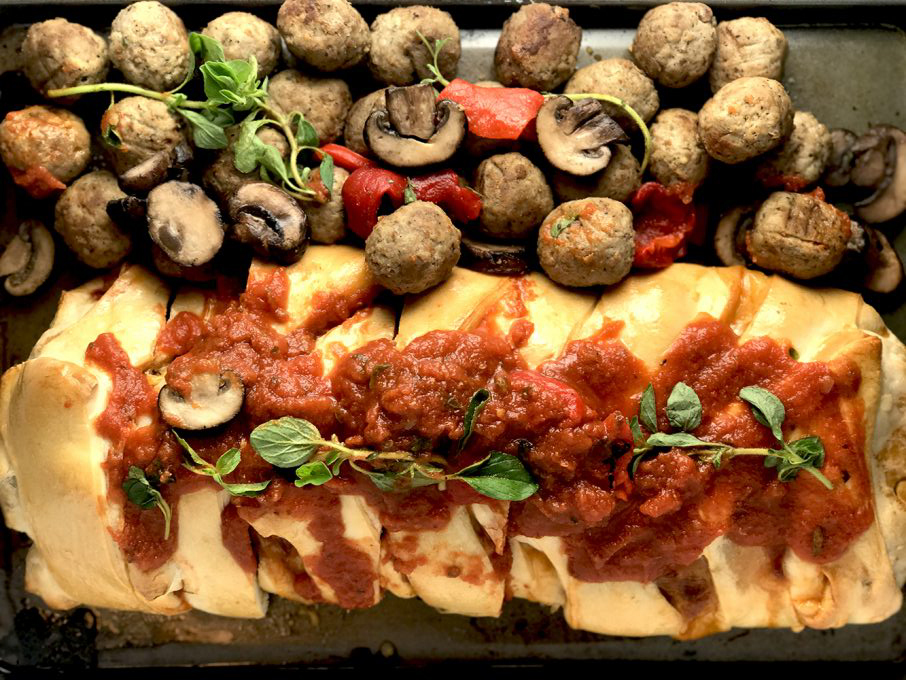 Recipe Name
Italian Meatball Stromboli
Author Name
Published On
Preparation Time
Cook Time
Total Time
Ingredients
1 bag Farm Rich Italian Style Meatballs

1 tablespoon butter

8 oz. sliced baby portabella mushrooms

1 store-bought fresh pizza dough

1 cup marinara sauce (plus more for dipping)

½ cup roasted red bell pepper strips (optional)

1 tablespoon fresh oregano leaves

6 slices Provolone cheese

1 egg, beaten
Steps
Preheat oven to 400°F with baking stone in oven. Heat butter in large skillet over medium heat and sauté mushrooms for five minutes until tender. Remove from skillet and set aside.
Using the same skillet, brown meatballs for about five minutes over medium heat while stirring with a wooden spoon. Remove from heat and set aside.
Tear a long rectangular sheet of parchment paper and roll dough out to approximately 9 x 13 inches. Use a large tablespoon to slather about ½ of the marinara sauce down center of dough, about 2-3 inches in width. Place single layer of mushrooms on marinara sauce and then place meatballs (about 2 abreast) on top of mushrooms and sauce. Reserve remaining mushrooms to serve as a side to the stromboli. Place optional roasted red pepper strips over meatballs and cover with remaining marinara sauce and fresh oregano. Place slices of cheese over sauce.
Using a sharp knife, cut 1″ strips of dough on each side of the Stromboli. To wrap the stromboli, fold the ends in first and then wrap alternate strips of dough over top (like a shoe lace) between left and right. Brush stromboli with egg wash and then place pizza peel under parchment paper and slide parchment paper with stromboli onto hot baking stone.
Bake for 25 minutes or until golden brown. Serve with warm marinara sauce and cold beverage of your choice.
Notes:
The base of this recipe is simply the Italian style meatballs, marinara sauce, pizza dough, and cheese. All other ingredients (mushrooms and peppers. etc.) are optional.
Make this stromboli your own and fill it with ingredients that you prefer.
Provolone cheese can be substituted with Mozzarella cheese or, once again, any cheese of your choosing.