Meatball Pizza Cups
Prep Time

Cook Time

Easy Level
Recipe Description
Made with pizza dough, Farm Rich meatballs, and a muffin tin,
kids can make
these easy meatball cups as appetizers or snacks.
Summary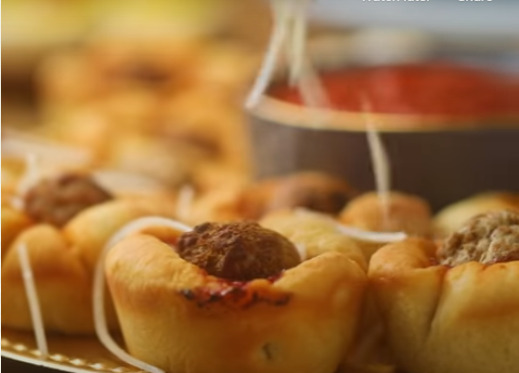 Recipe Name
Author Name
Published On
Preparation Time
Cook Time
Total Time
Ingredients
12 Farm Rich Homestyle Meatballs

16 ounces fresh pizza dough

Extra virgin olive oil

1/4 cup melted unsalted butter

1 clove garlic, grated or minced

1/2 tsp teaspoon salt

1 1/2 cups marinara sauce, divided

1/4 cup grated Parmesan cheese

Flat leaf parsley (garnish)
Steps
Preheat oven to 375°F.
In a small bowl, mix together the melted butter, salt, and garlic.
Divide pizza dough into 12 equal pieces (approximately 1 ounce each). Lightly oil your hands and stretch out to form 3-inch circles.
Lightly spray 12-cup muffin pan with non-stick spray. Press each circle into the muffin tin cups and brush butter/garlic mixture onto the dough.
Place about 1 teaspoon of marinara sauce into bottom of the cups and add 1 Farm Rich Meatball.
Bake until dough is fully cooked, about 15-20 minutes or cups are lightly browned. Top with a pinch of parmesan and sprinkling of chopped parsley.
Serve with remaining warmed marinara sauce.