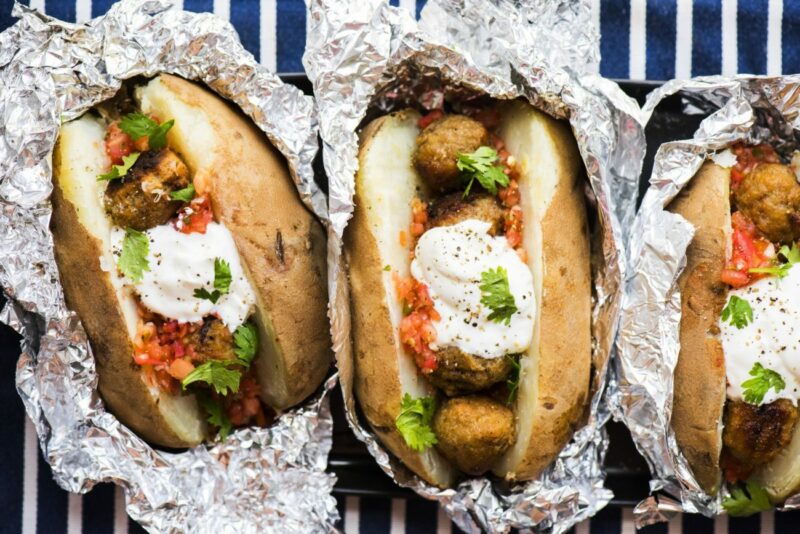 Meatball-Stuffed Baked Potato
Prep time

Cook Time

Easy Level
Recipe Description
How to bake a potato? Just like this! Try this easy recipe for a fully loaded baked potato with meatballs, cheese, and sour cream.
Summary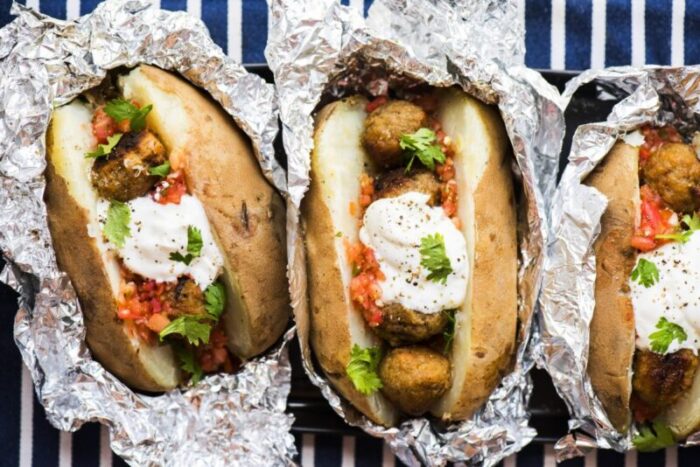 Recipe Name
Meatball-Stuffed Baked Potato
Author Name
Published On
Ingredients
4 potatoes

1 jar salsa

1 carton sour cream

Extra mozzarella cheese
Steps
How To Bake a Potato – Preheat oven to 350ºF. Wash potatoes and pierce with a fork. Sprinkle with salt and pepper. Wrap in foil and bake in preheated oven for 1 hour.
Remove from oven, slice down the middle, and use a spoon to create a space in the middle of the potato.
Meanwhile, arrange meatballs in a single layer on a baking sheet and place on middle rack of preheated oven. Bake half bag for 20–21 minutes or full bag for 28–29 minutes.
Spoon 3–4 meatballs and desired amount of salsa onto each baked potato. Top with desired amount of sour cream, and sprinkle on shredded mozzarella cheese.
Place back in 350ºF oven for one minute to allow cheese to melt. Remove from oven, let cool, and enjoy.