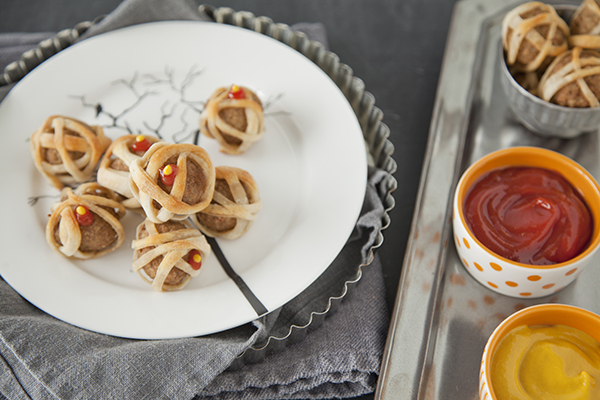 Mummy Eyeballs
Prep Time

Cook Time

Medium Level
Recipe Description
Mummy Eyeballs are a great, kid-friendly recipe, perfect for any Halloween party!
This Mummy Eyeball recipe is sure to be the hit at your next spooky celebration. They're tasty, easy, and pretty creepy. All you need is a package of Farm Rich Meatballs and a tube of pizza dough to create these creepy mummy eyeballs. Serve them as an after-school snack so your little trick-or-treaters have plenty of fuel to get them through a long evening. If you're hanging with adults this year, take them to the big Halloween party as a fun and festive appetizer to set the Halloween mood.
Summary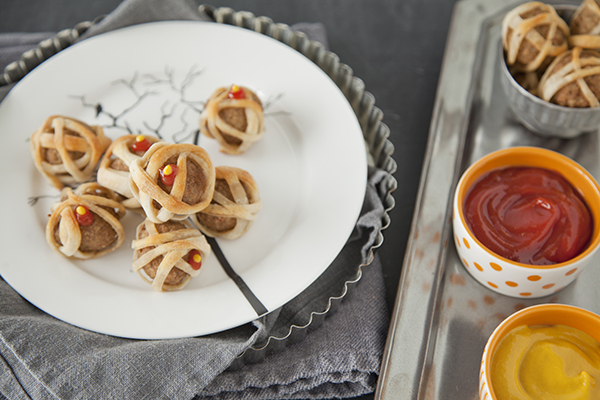 Steps
Preheat oven to 400ºF. Line a baking sheet with parchment paper and set aside.
Roll out the pizza dough and cut it into long thin strips (about 1/8-inch wide and 8 inches long).
Wrap one strip around each meatball, overlapping in a haphazard pattern and still allowing some of the meatball to show through.
Place on the baking sheet and bake until the dough is browned (about 20 minutes).
Allow to cool slightly and place one dot of ketchup somewhere on the exposed meatball with a dot of mustard in the center of the ketchup.