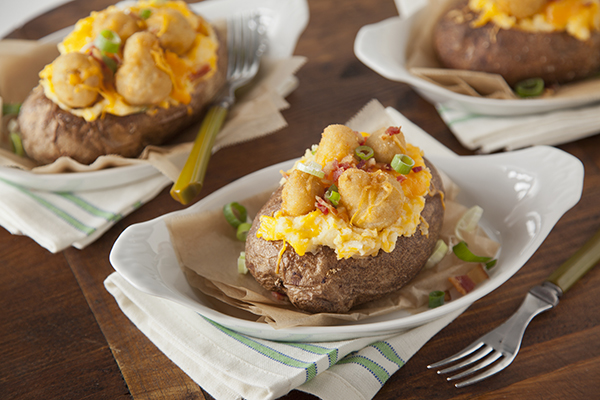 Mushroom Stuffed Baked Potatoes
15 mins Prep Time

Cook Time

Easy Level
Recipe Description
Your best defense against hunger straight from the steakhouse.
Summary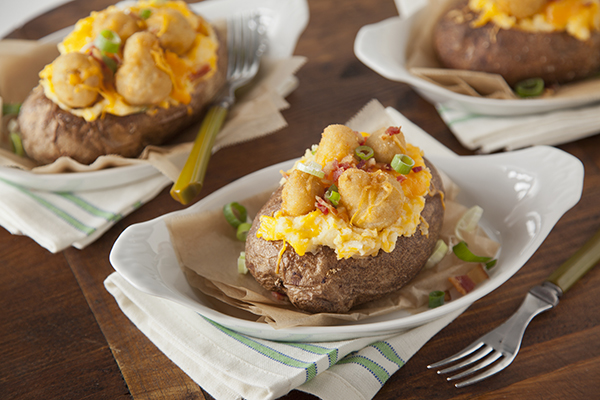 Recipe Name
Mushroom Stuffed Baked Potatoes
Published On
Ingredients
16-20 Farm Rich Breaded Mushrooms

4 extra large baking potatoes, cleaned and dried

1 tablespoon vegetable oil

4 tablespoons butter, room temperature

¾ cup Sour cream

2 cups shredded cheddar cheese, divided

1 scallion (green and white parts), chopped

4 slices bacon, cooked crisp and chopped (optional)

To taste Kosher salt and freshly ground black pepper
Steps
Preheat oven to 400ºF.
Rub the outside of each potato with vegetable oil and season liberally with salt and pepper. Pierce the potatoes in a few places and place on an aluminum-lined baking sheet. Bake until fork tender. When cool enough to handle, cut the top quarter from each potato and scoop out the pulp into a bowl (leaving a 1/4-inch layer of pulp on the skin).
Place the potato shells back on the baking sheet. Using a potato masher, mash the potato pulp until almost smooth. Add butter, sour cream and 1 cup cheddar cheese. Mash until smooth. Stir in the bacon (optional) and scallion. Season with salt and pepper.
Cook Breaded Mushrooms according to package instructions.
Spoon the potato mixture back into the shells and top with mushrooms (push them down into the potato mixture a little). Top with the remaining cheese and return to the oven until hot and the cheese is bubbly (about 15 minutes). Serve immediately.