No-Time Meatball Soup
10 minutes Prep Time

30 minutes Cook Time

Medium Level
Recipe Description
Our No-Time Meatball Soup recipe is a hearty, warm soup made with plenty of love. Is it possible to prepare homemade soup on a busy weeknight? It is if you start with frozen Farm Rich Italian Meatballs. Our meatballs are packed with high-quality, big-flavor ingredients, and you can't beat their convenience. Just grab a bag and throw them in your broth to create an amazing soup in minutes.
This No-Time Meatball Soup recipe is reminiscent of a minestrone that takes hours to simmer on the stove, but with a few shortcuts and a bag of frozen Farm Rich Meatballs, you can get a rich taste and flavor in about 30 minutes. Fresh kale and veggies make this recipe hearty and delicious.
No-Time Meatball Soup is extremely adaptable: make it meatless by subbing in Garden Inspirations by Farm Rich Meatless Meatballs, add some cooked tortellini, or a can of roasted tomatoes. Serve a hot bowl of this delicious soup with a loaf of crusty bread and you've got a fast weeknight meal everyone will love.
Summary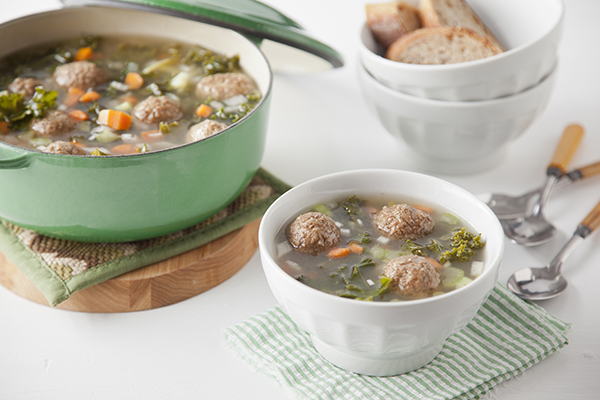 Recipe Name
Published On
Preparation Time
Cook Time
Total Time
Ingredients
1 (28-ounce) package Farm Rich Italian Meatballs, frozen

4 tablespoons olive oil

1 bunch kale, chopped (about 3 cups)

¼ teaspoon red pepper flakes

1 medium onion, diced

2 carrots, diced

2 stalks celery (with leaves), diced

2 garlic cloves, minced

12 cups low-sodium chicken stock (or vegetable stock)

Kosher salt and freshly ground black pepper to taste

¼ cup grated Parmesan cheese to garnish, optional
Steps
In a large saucepan over medium-high heat, add olive oil and heat for 2 minutes.
Stir in kale and red pepper flakes and cook until kale begins to wilt (about 3 minutes).
Reduce heat and add onion, carrots, celery and garlic.
Cook, stirring often, until onions are translucent (about 5 minutes).
Add in stock and bring to a simmer. Simmer for 30 minutes. Add in meatballs and continue to simmer soup until meatballs are fully heated through (about 10 minutes).
To serve, ladle soup into bowls and garnish with grated Parmesan.