Potato Skin Breakfast Muffins
10 mins Prep Time

40 mins Cook Time

Medium Level
Recipe Description
If you're looking for something different to serve at a brunch, this recipe is a guaranteed hit. It's fast, easy, and tastes excellent. Farm Rich Loaded Potato Skins are loaded with 100% real bacon and cheddar cheese. Potato Skin Breakfast Muffins are a hearty twist on breakfast muffins that will delight any bed head.
We call these Potato Skin Breakfast Muffins because they're baked in a muffin tin, but they aren't really muffins in the conventional sense of the word. They're actually a bit more like a quiche or frittata. Whatever you want to call them, they're delightful and easy to make.
While your Loaded Potato Skins bake, sauté some onions and peppers (spicy ones if you like). Beat an egg and mix it with milk, salt, pepper, and a dash of cayenne pepper. Once the potato skins are done, set them into muffin cups, top with veggies, and then pour a little of the egg mixture on top. Bake for about 12 minutes and you'll have a breakfast of champions.
Summary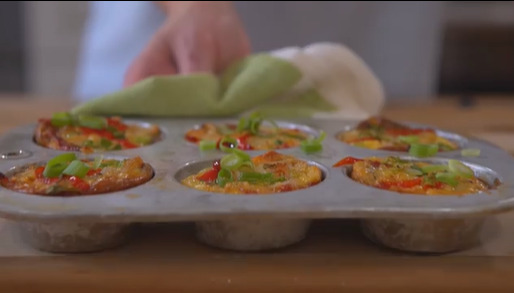 Recipe Name
Potato Skin Breakfast Muffins
Author Name
Published On
Preparation Time
Cook Time
Total Time
Ingredients
12 Farm Rich Loaded Potato Skins

1 TBSP olive oil

1 onion, sliced

1 red pepper, sliced

8 eggs

1/3 cup milk

1/2 tsp cayenne pepper

1/4 tsp each salt and pepper

2 green onions, sliced
Steps
COOK FARM RICH POTATO SKINS
Cook Potato Skins according to package directions.
COOK THE VEGGIES
Meanwhile, heat oil in skillet set over medium heat
Cook onion and pepper slices for 4 to 5 minutes or until tender
PREPARE THE MUFFINS
Whisk together eggs, milk, cayenne, salt and pepper
Place Potato Skins into greased muffin cups
Top with onion and pepper mixture
Pour egg mixture over top
Sprinkle with green onions
 BAKE THE POTATO SKIN BREAKFAST MUFFINS AND SERVE
Bake in 375°F oven for 12 to 15 minutes or until eggs are set.
Serve hot
TIP
For a spicy breakfast cake, cook 1 seeded, diced jalapeño pepper along with onions and peppers.