Spicy Meatball Taquitos
10 mins Prep Time

25 mins Cook Time

Easy Level
Recipe Description
Spice up your new favorite dinner dish with these perfectly meaty and crispy taquitos from Farm Rich!
This Spicy Meatball Taquitos Recipe is certain to become a staple in your home. Once you discover how delicious they are and how easy they are to make, these crispy taquitos will be on regular rotation in your weekly dinner menu.
The stars of this dish are our Homestyle Meatballs. Farm Rich Meatballs are made from the highest quality ingredients. They're rich, hearty, and full of flavor. Best of all, frozen meatballs make these taquitos easy to prepare. If you're just feeding yourself, it's easy to make a pair of taquitos, or make a tower of them to feed a crowd. It's easy to throw together exactly what you need.
There's no thawing, no shaping, no planning for days ahead or prepping for hours. This dish comes together while you prepare your favorite taquito toppings. Even the pickiest eaters are sure to gobble up this Spicy Meatball Taquitos Recipe.
Summary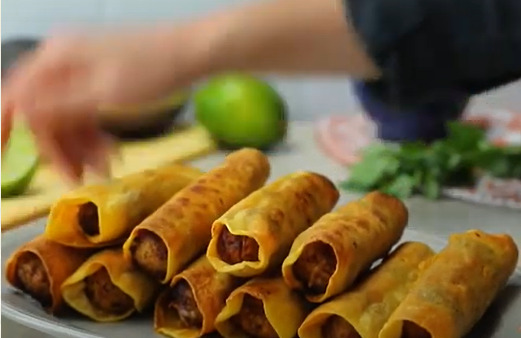 Recipe Name
Author Name
Published On
Preparation Time
Cook Time
Total Time
Ingredients
1 package Farm Rich Homestyle Meatballs

16–20 corn tortillas

1 tsp salt

6 tbsp adobo sauce

2 tbsp vegetable oil

1 1/4 cups shredded cheese blend

1/2 cup fresh avocado

1/2 lime, juiced

1/4 cup mayonnaise

1/4 cup sour cream

1/2 cup vegetable oil

fresh cilantro
Steps
Heat oil in a skillet over medium-high heat and add meatballs. Cover and cook for 12 minutes
Add adobo sauce (for a thinner consistency, add 2 tablespoons of water). Cover until meatballs are completely cooked (about 6 more minutes). Remove from heat and allow to cool completely.
Place 2 tablespoons of cheese on a corn tortilla, place 3 meatballs on top of cheese, and carefully roll over. Place seam-side down on a baking sheet. Place taquitos in the freezer for 10 minutes before frying.
Place ½ cup of oil in a skillet and heat over medium-high heat. Carefully fry taquitos (place in oil seam-side down; do not agitate so they remain sealed). Carefully turn after 4 minutes (or until lightly browned). Fry about 6 more minutes or until golden brown on all sides. Drain on paper towels.
Combine avocado, mayonnaise, and sour cream in a food processor. Blend until creamy and set aside
Garnish with freshly chopped cilantro
Serve immediately and enjoy!