This is a quick and easy DIY to make if you're having people over to watch the big game, the commercials, and the halftime show and want to protect your tables from ring spots. Or make them and take them as a hostess gift if you're going to a party to watch the game. Plus, they're just cute and they add functional decor. If you don't have a lot of time to decorate, make something that functions and is on-theme.
Supplies:
tiles
epoxy
Astroturf
scissors or knife
stencils tape
white spray paint.
Optional: felt for the bottoms to keep the tile from scratching your table (recommended)
Instructions:
Step 1:
Start by cutting out your Astroturf. Place your tile on the back of the Astroturf and cut around it (slightly larger). Cut along the gridded lines on the back to ensure it's straight.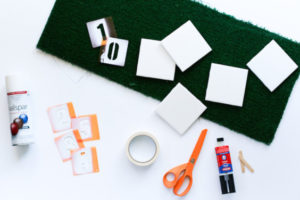 Step 2:
Next, tape off your middle line and two miniature sidelines. You don't need to take the entire coaster unless you want to. I'm a quick DIYer, so I take shortcuts and in this case, I use an old catalog to protect the parts I don't want spray painted which in this case are the right and left corners above the tape. Once your tape is set, apply one or two coats of white spray paint.
Step 3:
Remove the tape and allow to dry. Then take your stencils and place them in the correct area, place your old catalogs or magazines over the parts you don't want spray painted, and spray paint the numbers. Make sure the numbers don't shift too much after you place them down, or you'll end up with my 40 Yard Line coaster where the 4 is a bit high.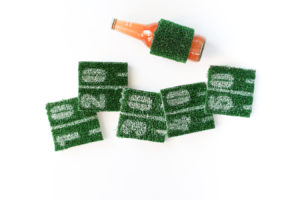 Step 4:
Once dry, follow the manufacturer's instruction on the epoxy to glue the Astroturf to your tiles and allow to dry a few hours.
Step 5:
Optional, but recommended, step: use epoxy or even a glue gun to attach felt to the bottom of the tiles so they won't scratch your table. I would use white felt, so it matches the white tile.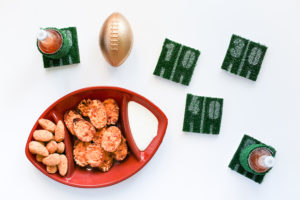 Step 6:
Set out your new coasters with your favorite sodas and some snacks. I picked up some Farm Rich Loaded Potato Skins and Breaded Mushrooms along with some bottled sodas wrapped in leftover Astroturf koozies.
Inspiration courtesy of Salty Canary