NEWEST FARM RICH SNACKS PACKED WITH FLAVOR

NEWEST FARM RICH SNACKS PACKED WITH FLAVOR
Stuffed Sweet Peppers, Goat Cheese Bites and Thai Style Chili Chicken Bites
Debut at Walmart This Fall
ST. SIMONS ISLAND, Ga. (Nov. 8, 2023) – America's popular snack brand, Farm Rich, introduces three new sweet and savory snacks this month at Walmart stores nationwide. The new products include Stuffed Mini Sweet Peppers, Goat Cheese Bites and Thai Style Chili Chicken Bites.
This new sweet and savory snack has breaded mini sweet red peppers with a zesty cheddar cheese filling. Each 16-oz. carton has about five four-piece servings inside.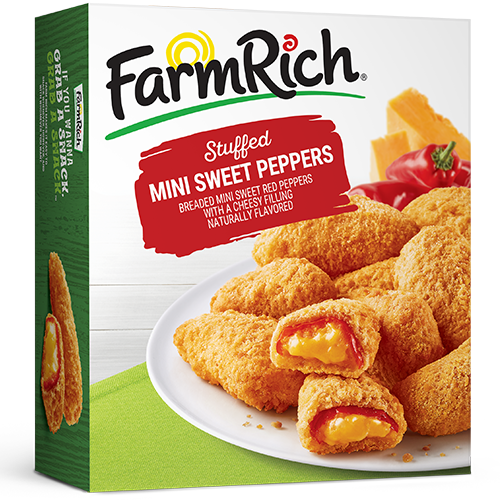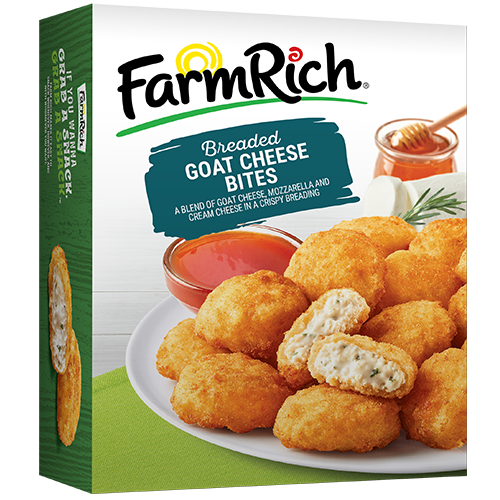 Featuring a tasty blend of goat cheese, mozzarella and cream cheese, in a crispy breaded coating, the new Goat Cheese Bites add another popular snack to Farm Rich's cheesy lineup. Each four-piece serving has 10g of protein and 150mg of calcium. The 16-oz. package also comes with a side of Hot Honey Dipping Sauce.
Thai Style Chili Chicken Bites
The third addition to Farm Rich's Chicken Bites offerings, new Thai Style Chili Chicken Bites are all-white meat chicken fritters coated in breading and tossed with a sweet and spicy Thai chili tossing sauce. The Chicken Bites have 10g of protein per serving, and the tossing sauce is included in each 16-oz carton.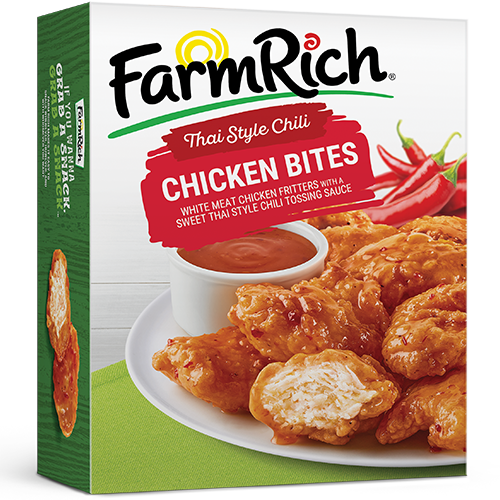 All of the new snacks can be prepared in a conventional oven, toaster oven or air fryer. They are priced around $6.68 at Walmart.
About Farm Rich
Farm Rich has been making some of America's favorite frozen snacks since 1982, including the brand's #1 bestselling Mozzarella Sticks. A division of Rich Products, the company is based in St. Simons Island, Ga., and features a full portfolio of frozen snack and appetizer products, as well as plant-based food offerings, made for snacking when you want, how you want. All products are made with wholesome, great-tasting ingredients, and sold at grocery and club stores nationwide and online. For products, nutritional information, recipes and more, visit FarmRich.com.