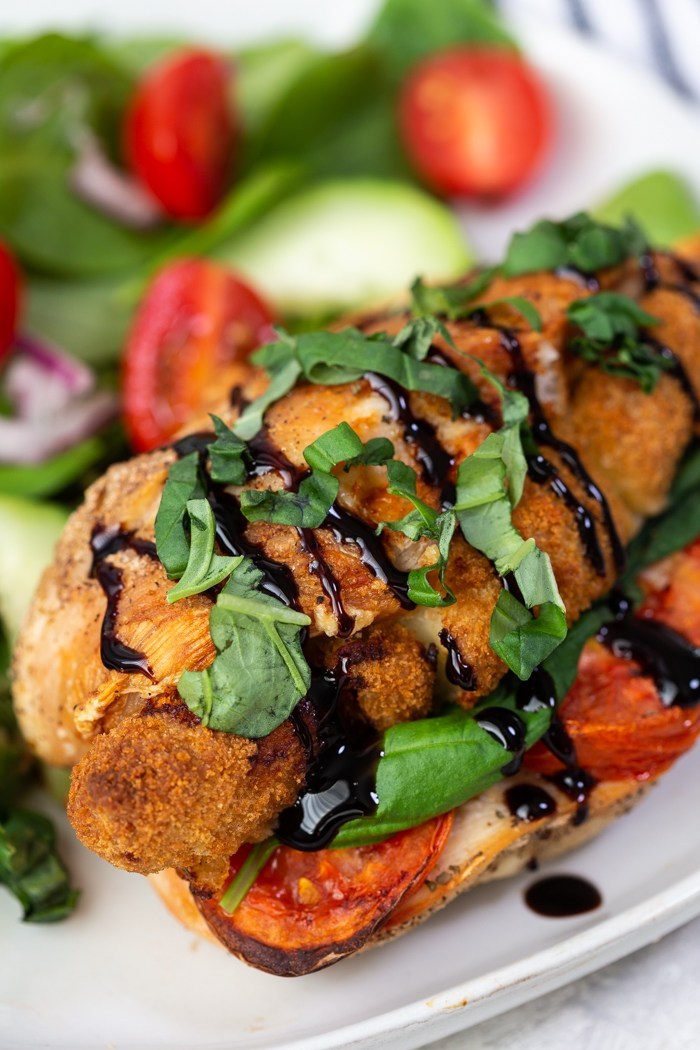 Air Fryer Caprese Stuffed Chicken Breast
10 mins Prep Time

20 mins Cook Time

Medium Level
Recipe Description
When it comes to a hearty, delicious, and appetizing dinner, this Caprese stuffed chicken has it all. Featuring juicy chicken stuffed with Mozzarella Sticks, tomatoes, and basil, and topped with a balsamic glaze, all the flavors you love of Caprese are cooked in an air fryer.
Summary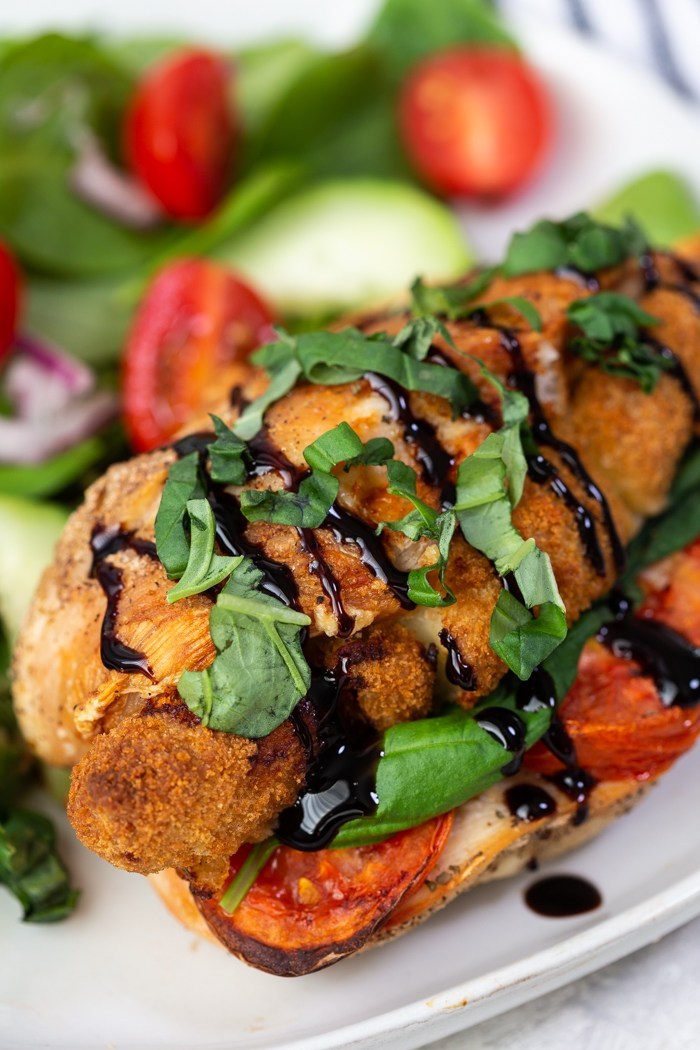 Recipe Name
Air Fryer Caprese Stuffed Chicken Breast
Author Name
Published On
Preparation Time
Cook Time
Total Time
Ingredients
6 Farm Rich Mozzarella Sticks

2 chicken breasts

1/2 tsp dried basil

1 roma tomato

6 basil leaves

1 tbsp balsamic glaze

1/2 tsp pepper

1 tsp salt
Steps
Using a sharp knife, butterfly the chicken breasts so they are open, but not sliced all the way through, creating a pocket for the filling to go. Set aside.
Mix together the salt, pepper, and dried basil, and generously season the exterior of the chicken.
Wash and slice the roma tomato, and place 2-3 pieces on the inside part of the chicken.
Add 3 Mozzarella Sticks on top of the tomatoes.
Fold the chicken over the filling, and use toothpicks to secure it in place.
Place chicken breast in the air fryer basket and set to 370°F for 20 minutes. When finished, use a meat thermometer and take a temperature read to insure internal temp of chicken is at 165°F when finished cooking. If not, return to air fryer for 3-5 more minutes.
Remove from air fryer, and remove the toothpicks. Place two fresh basil leaves inside the chicken, on top of the tomatoes. Drizzle chicken breast with balsamic glaze, and additional fresh basil and serve.
Preheat oven to 400°F.
In a large oven-proof skillet, over medium-high heat, melt 1 Tbs of butter or add 1 Tbs of olive oil. Sear chicken 3-4 minutes per side, until golden brown.
Place skillet in the preheated oven, and bake 17-20 minutes, until internal temperature reads 165 degrees.
Remove from oven, and remove toothpicks. Then place 2 fresh basil leaves inside each chicken breast, drizzle with balsamic, and garnish with more fresh basil if desired.
Serve and enjoy.