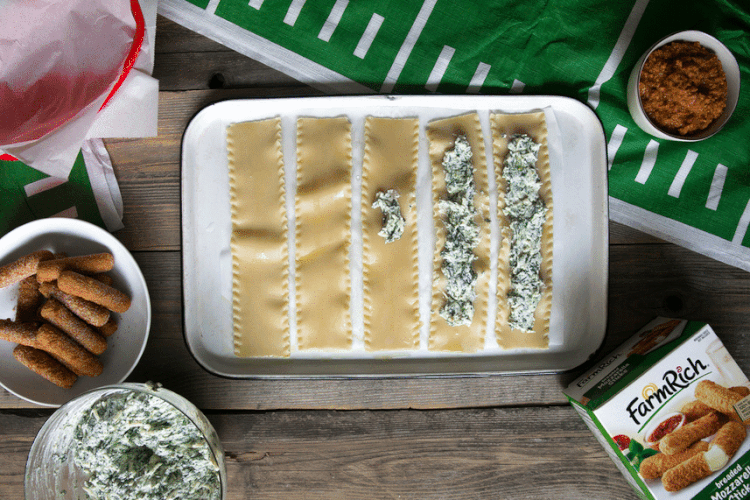 Mini Mozzarella Stick Lasagna Roll Ups
30 mins Prep Time

20 mins Cook Time

Easy Level
Recipe Description
Combine two fun favorites for the perfect game day, birthday, party, playdate, or anytime snack! Little bite-size snacks with homemade ground turkey sauce. Save time with Farm Rich Mozzarella Sticks!
Summary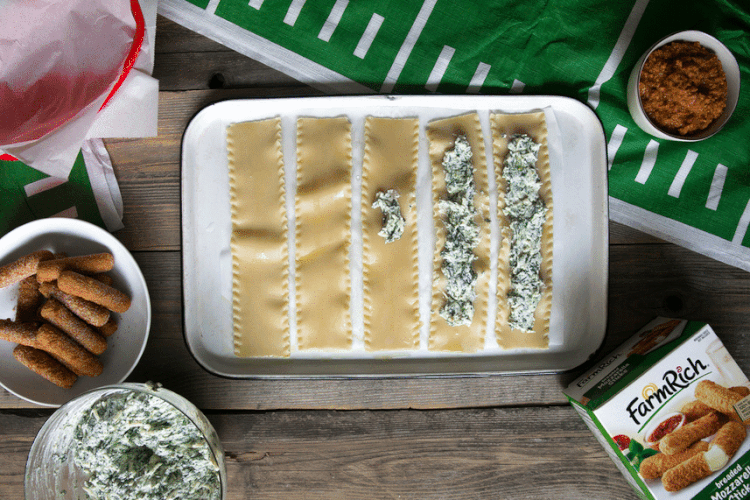 Recipe Name
Mini Mozzarella Stick Lasagna Roll Ups
Author Name
Published On
Preparation Time
Cook Time
Total Time
Ingredients
FOR THE GROUND TURKEY MEAT SAUCE

2 tsp olive oil

1 yellow onion, diced

2 carrots, finely chopped

3 garlic cloves, minced

1 pound ground turkey

1 jar (25 oz) tomato sauce (use your favorite)

1 tsp Italian seasoning

salt + pepper, to taste

FOR THE LASAGNA ROLL UPS

15 lasagna noodles, cooked

1 package (10 oz) frozen chopped spinach, fully thawed and drained of any liquid

1 shallot, finely diced

1 container (15 oz) full-fat ricotta cheese

1/2 cup mozzarella cheese, shredded

1/4 cup parmesan cheese, shredded

1 egg

2 cloves garlic, minced

1/2 tsp reshly ground black pepper

1 tsp salt

Shredded Mozzarella Cheese, for topping

15 Farm Rich Mozzarella Sticks
Steps
Heat olive oil in a large saucepot over medium-high heat. Add the diced yellow onion to the pot and sauté for approximately 3 minutes, stirring frequently. Add the chopped carrot and continue to sauté for an additional 2 minutes. Stir in the minced garlic with a dash of salt and pepper and sauté for one minute more.
Add the ground turkey (or chicken or beef) to the saucepot and combine and cook with the vegetables. Sauté everything together, stirring frequently. Sauté until meat is fully cooked.
Add the jar of tomato sauce, Italian seasoning, salt, and pepper, to taste, to the meat and vegetables, and bring to a simmer. Transfer the prepared sauce to the bowl of a large blender and blend on low until desired consistency is reached (if you prefer a chunkier sauce, feel free to omit this step).
Set meat sauce aside.
Preheat oven to 400°F and line a large baking sheet with parchment paper. Set aside.
In a medium mixing bowl combine the spinach, diced shallot, ricotta, mozzarella, Parmesan, egg, garlic, black pepper, and salt. Set aside
Lay a large sheet of parchment paper out on a flat work surface and carefully transfer cooked lasagna noodles on to the parchment paper. Spread 2-3 tablespoons of the ricotta mixture over each lasagna noodle. Place one Farm Rich Breaded Mozzarella Stick on one end of the lasagna noodle and roll up. Repeat.
Top each roll with 1-2 tablespoons of prepared tomato meat sauce and sprinkle with mozzarella cheese. Create a large tent over your baking sheet with foil and transfer to the oven. Bake at 400 F for approximately 15-20 minutes, or until cheese is melted
Remove from the oven and carefully cut in half. Serve with remaining sauce for dipping.