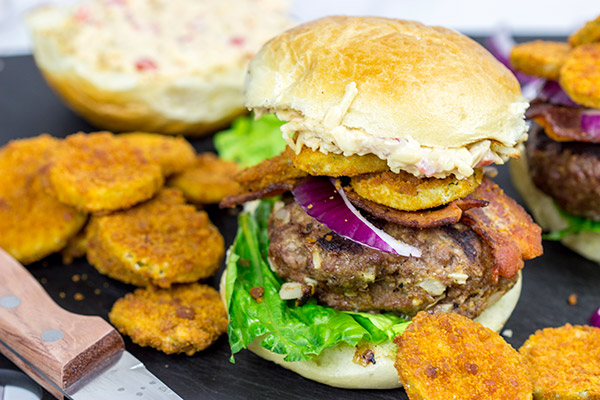 Pimento Burger with Fried Pickles
15 minutes Prep Time

15 minutes Cook Time

Medium Level
Recipe Description
A fun twist on a classic burger featuring a couple of classic southern elements, including pimento cheese, bacon, and Farm Rich Crispy Dill Pickles!
Summary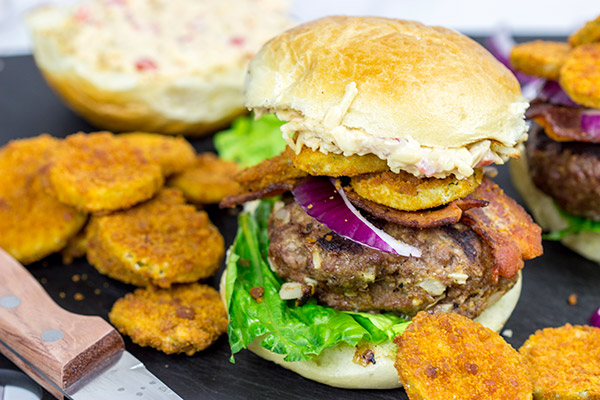 Recipe Name
Pimento Burger with Fried Pickles
Author Name
Published On
Preparation Time
Cook Time
Total Time
Ingredients
FOR THE PIMENTO CHEESE SPREAD

3 TBSP mayonnaise

1 tsp Worcestershire sauce

¼ tsp black pepper

Pinch cayenne pepper

2 TBSP pimento peppers, finely diced

1½ cups sharp cheddar cheese, coarsely grated

FOR THE BURGERS

16 oz. lean ground beef

1 large egg

¼ cup red onion, diced

¼ cup Italian breadcrumbs

1 tsp garlic, minced

2 tsp Worcestershire sauce

½ tsp salt

½ tsp black pepper

¼ tsp cayenne pepper

TO ASSEMBLE

4 burger buns, lightly buttered

Red onions, sliced

Bacon, cooked

Lettuce
Steps
Using a large bowl, whisk the mayonnaise, Worcestershire sauce, pepper, and cayenne together in a large bowl. Add the pimento peppers and shredded cheese; stir until well combined. Set aside.
Preheat grill to medium-high heat.
Using a medium bowl, combine the ground beef, egg, onion, breadcrumbs, garlic, Worcestershire sauce, salt, pepper, and cayenne; mix until well combined.
Shape mixture into 4 patties. (Tip: Make an indention in the center of each patty with your thumb. This will keep the burgers flat once cooked.)
Grill burgers on medium-high heat for 10-12 minutes, flipping once, or until fully cooked.
Remove burgers from grill and set aside. Place buns on grill; cook for 1-2 minutes, or until lightly toasted.
Assemble the burgers with cooked Crispy Dill Pickles, onions, bacon, lettuce, and Pimento Cheese Spread.