Perfect Pairings
Learn your pairings. It's snack math 101.
Snacking isn't one-dimensional. We've paired up Farm Rich snacks with their perfect complements for next-level snacking. Bonus: we'll even show you where to buy.
Meatballs + Honey Garlic Sauce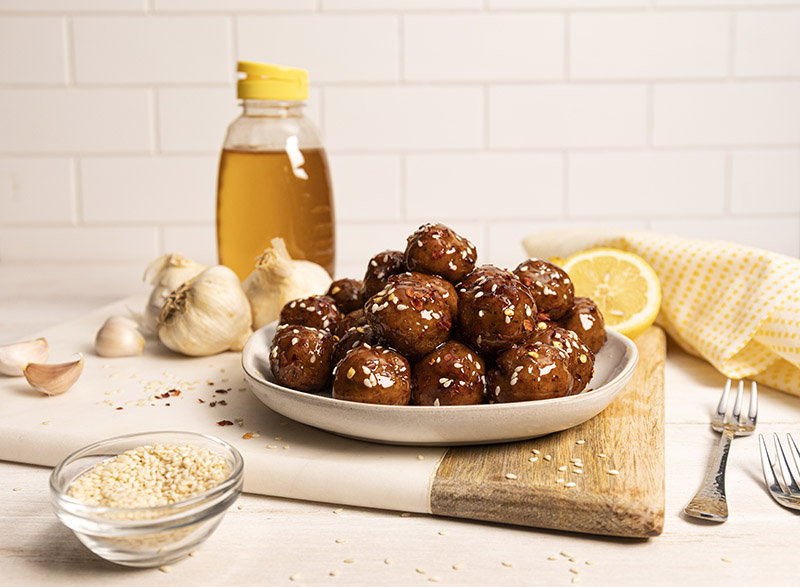 You can have the best of both worlds: just combine sweet and savory. Toss Farm Rich Homestyle Meatballs with Honey Garlic Sauce for a zesty meal.
Easy Honey Garlic Sauce Recipe
1 Tbsp corn starch
¼ cup warm water
¼ cup honey
¼ cup low sodium soy sauce
¼ cup dark brown sugar
1 1/2 Tbsp minced garlic
2 Tbsp rice vinegar
1 1/2 tsp chili crisp (such as LaoGanMa) or chili sauce
1 tsp toasted sesame seeds
Directions
In a measuring cup, combine corn starch and water. Stir to dissolve.
Combine honey, soy sauce, sugar, garlic, and vinegar in a saucepan. Add corn starch mixture. Whisk ingredients over medium heat and bring to a low boil. Simmer for 5 minutes over low heat.
Remove from heat and add chili crisp and toasted sesame seeds. Cool for 10 minutes before serving so sauce can thicken.
WHERE TO BUY FARM RICH HOMESTYLE MEATBALLS
Potato Skins + Beer
Top Farm Rich Loaded Potato Skins with sour cream, green onions, guacamole, jalapeños, or your favorite toppings and serve with a cold one.  You'll have a fall football party going in a matter of minutes.
WHERE TO BUY FARM RICH LOADED POTATO SKINS
Snack Mary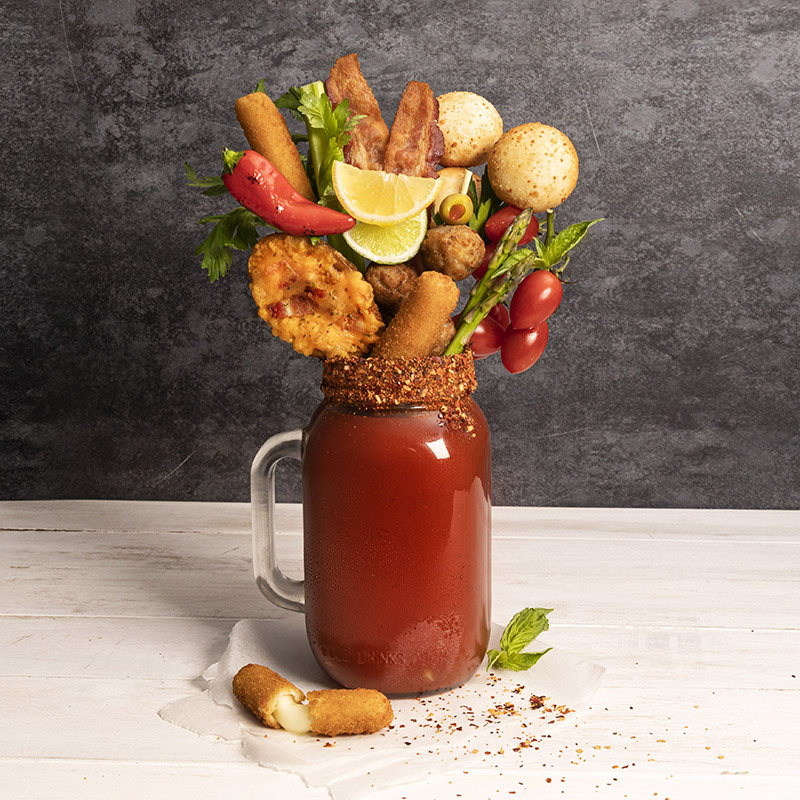 Raise your hand if you need this Bloody Mary in your life? For a mind-blowing Bloody Mary bar, put out a selection of Farm Rich Mozzarella Sticks, Cheddar Cheese Curds, Crispy Dill Pickles, Loaded Potato Skins, and Mozzarella Bites.
Layer in candied bacon, tomatoes, olives, asparagus, celery, and peppers. Serve glasses with lemon and a spicy rim. You will want to brunch all day.
Buffalo Chicken Bites + Blue Devil Cheese and Bacon Dip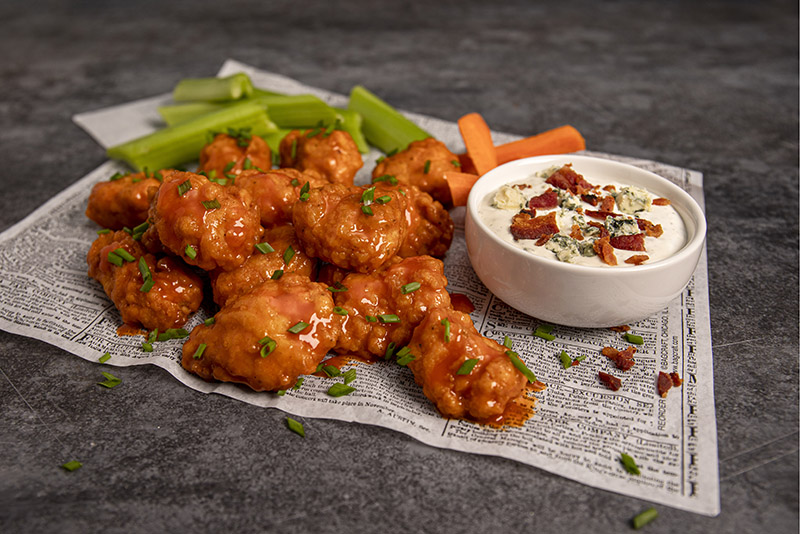 What's even better than inviting Farm Rich Buffalo Chicken Bites to the party? Adding Blue Devil Cheese and Bacon Dip as a plus-one. Check out this Blue Devil Cheese and Bacon Dip recipe for more party action.
WHERE TO BUY FARM RICH BUFFALO CHICKEN BITES
Mozzarella Sticks + Moscow Mule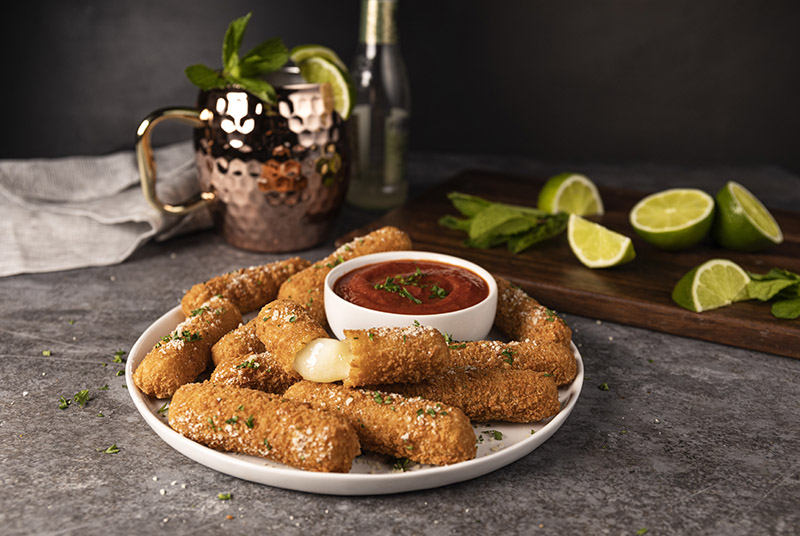 It's 5:00 somewhere, and in our book, it's always snack time. So really, anytime is the right time to try this Farm Rich Mozzarella Stick and Moscow Mule combo.
Moscow Mule Recipe
2 oz. vodka
4 oz. ginger beer
Squeeze of lime
Mint garnish (optional)
Directions
Combine all ingredients in a copper mug over ice.
WHERE TO BUY FARM RICH MOZZARELLA STICKS
Disney Frozen 2 Mac & Cheese Bites + Blue Raspberry Slushy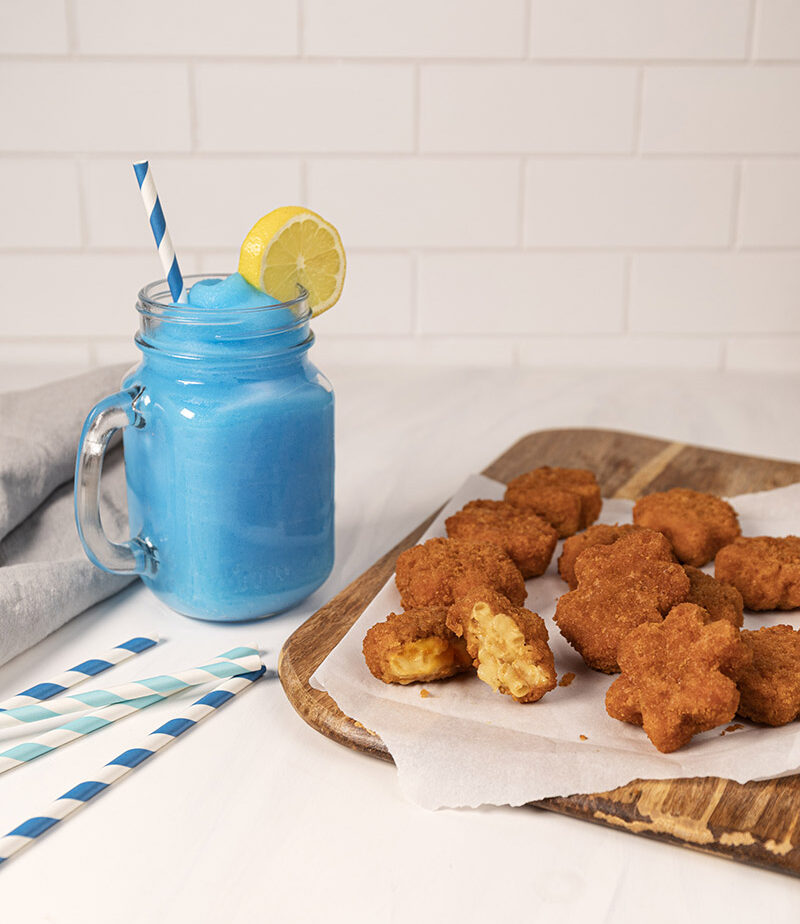 Don't let this recipe go, make it for the biggest Frozen fan you know. Pair these delicious Disney Frozen 2 Mac & Cheese Bites with the blue raspberry slushy of your dreams.
Blue Raspberry Slushy Recipe inspired by Some of This n That
1 pack of Berry Blue JELL-O
1 cup boiling water
2 Tbsp fresh lemon juice
1 cup lemon lime soda (or lemonade)
Directions
Combine boiling water and JELL-O. Mix until dissolved completely. Mix in soda.
Pour mixture into a baking dish and freeze for 3-4 hours, or until hard.
Remove from the freezer 5 min before serving and use a spoon or ice cream scoop to scrape the slushy out. Add a little more soda to your glass and garnish with a lemon before serving.
WHERE TO BUY DISNEY FROZEN 2 MAC & CHEESE BITES
Mandalorian™ Loaded Potato Tots + Yoda Soda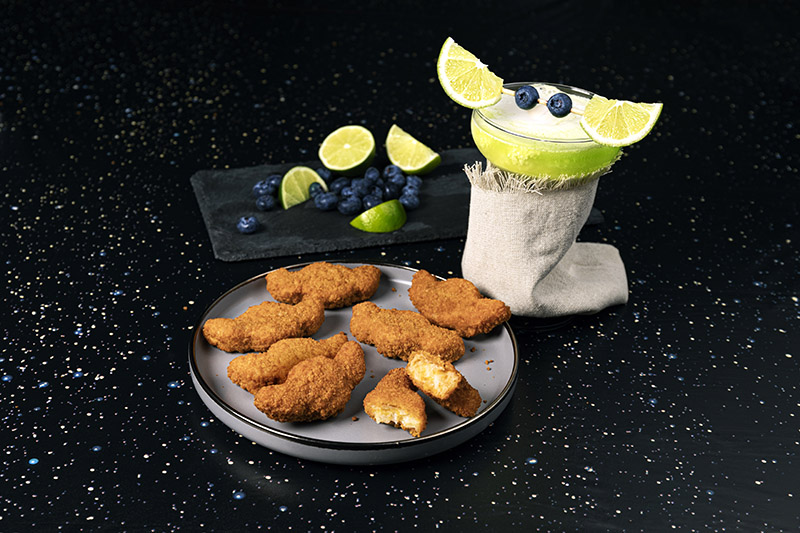 The flavor is strong with this combo. Pair your Mandalorian™ Loaded Potato Tots with this adorable Yoda Soda.
Yoda Soda Recipe from Taste of Home
1 gallon of Hawaiian Punch Green Berry Rush, chilled
2 liters of lemon-lime soda, chilled
2 pints of vanilla ice cream
Fresh blueberries and lime wedges
Directions
In a punch bowl, combine Hawaiian Punch and soda. Top with scoops of ice cream. If desired, garnish each serving glass with fresh blueberries and lime wedges. Dress your Yoda soda in a little burlap frock (optional).
WHERE TO BUY MANDALORIAN™ LOADED POTATO TOTS
Sweet Onion Petals + Steak & Wine Dinner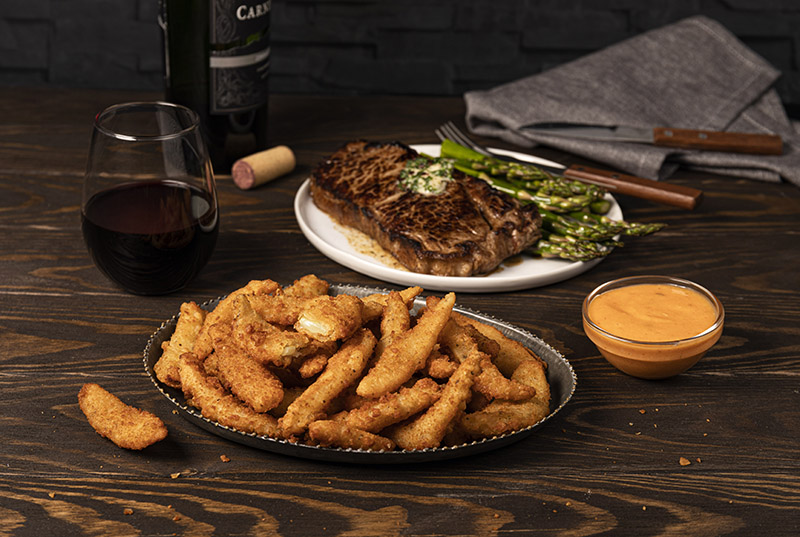 Those who don't share well with others should beware of this pairing. Farm Rich Sweet Onion Petals pair perfectly with a hearty ribeye. Don't forget a nice glass of red and the Aussie-style sauce.
Cheddar Cheese Curds + Basil Rosemary Shandy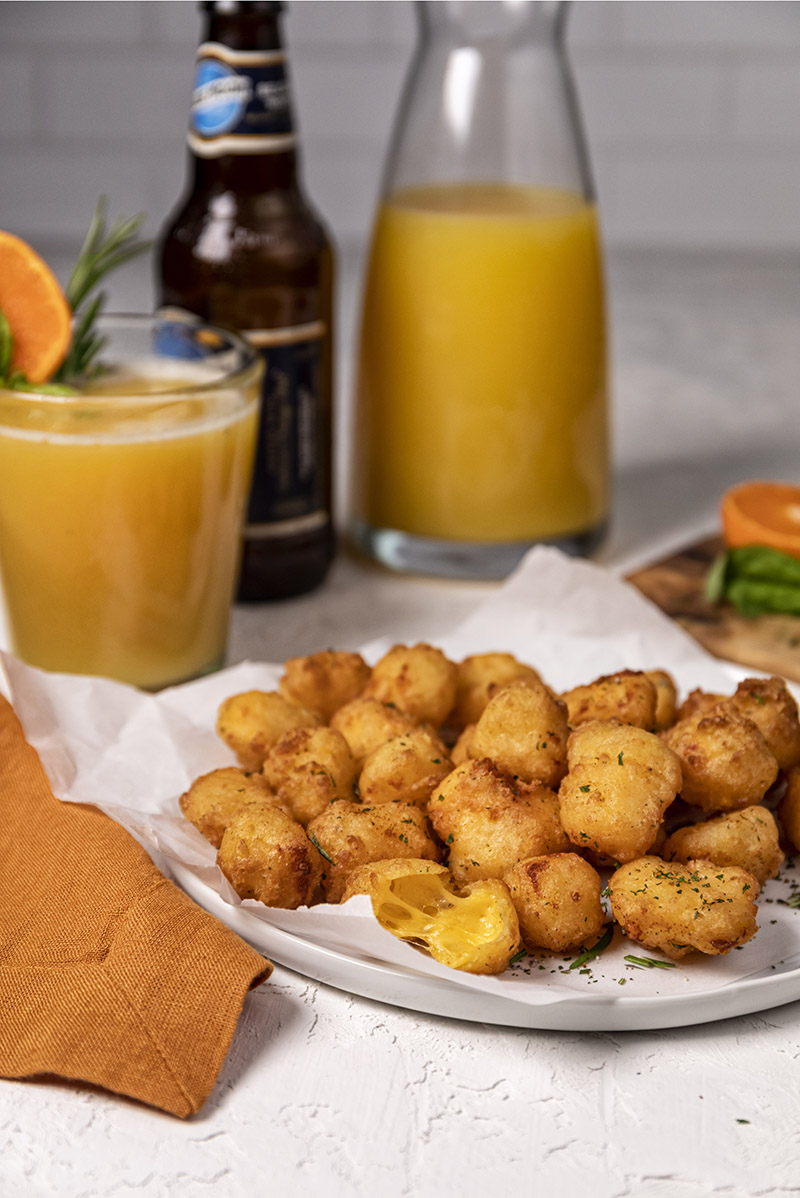 Pair Farm Rich Cheese Curds with a Basil-Rosemary Shandy for a super refreshing cocktail and a delightful bite.
Basil-Rosemary Shandy Recipe
For the Basil-Rosemary Orangeade:
3 cups water (divided)
1 cup sugar
2, 2-inch pieces of orange zest
1/4 cup basil leaves (fresh)
1/4 cup rosemary (fresh)
4 cups orange juice (fresh)
For the Shandy:
6 oz. basil-rosemary orangeade
6 oz. beer (wheat ale or lager, to fill)
Garnish: orange slice
Directions
Bring 1 cup of water to a boil in a small saucepan. Stir in the sugar until it is completely dissolved.
Reduce heat and add the orange zest, rosemary, and basil. Cover and simmer for 15 minutes. Remove from the heat and allow the syrup to cool completely, keeping the pan covered. Strain out the herbs and zest.
Combine the syrup, orange juice, and 2 cups of water in a pitcher. Stir and chill in the refrigerator for at least 2 hours.
Serve the orangeade within a few days.
To make the Shandy
In an ice-filled tall glass, pour the basil-rosemary orangeade until the glass is half full. Top with beer and garnish with an orange slice.
WHERE TO BUY FARM RICH CHEDDAR CHEESE CURDS
Crispy Dill Pickles + Lemonade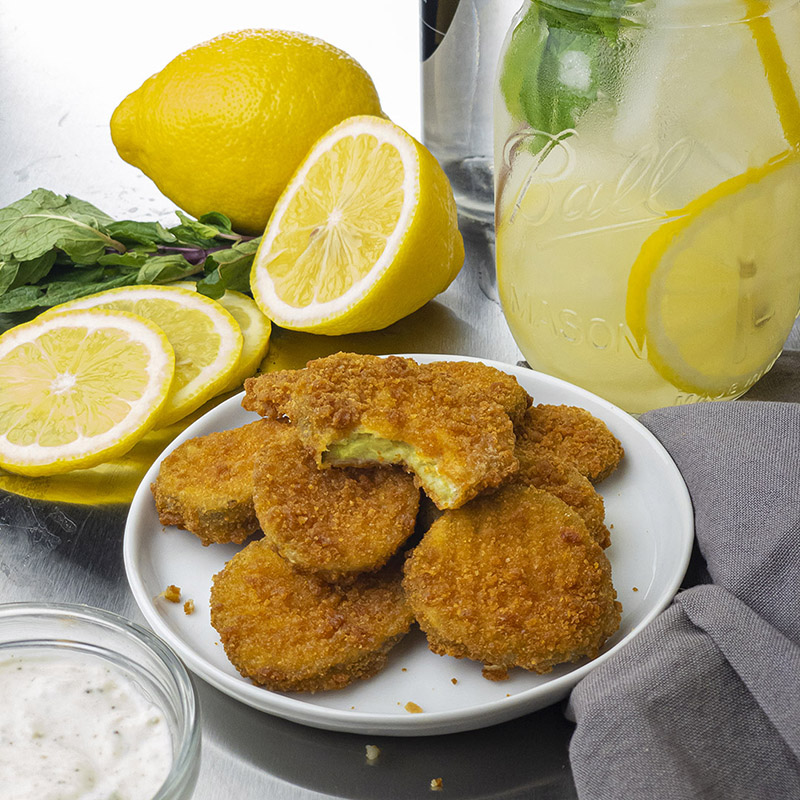 You could put the neighborhood kids out of business with this combo. Wind down and pucker up with Farm Rich Crispy Dill Pickles and Spiked (or un-spiked) Lemonade.
Want an easy dipping sauce? Here is our recipe for 5 Dips in 5 Minutes.
WHERE TO BUY FARM RICH CRISPY DILL PICKLES
Jalapeño Peppers + Jalapeño Margarita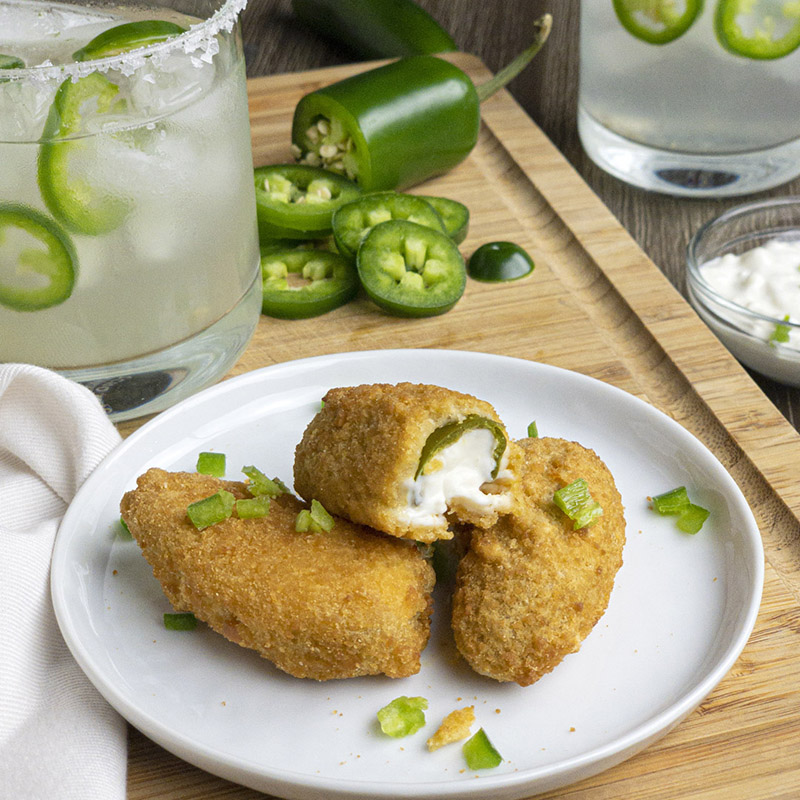 Some like it spicy, others like it "Jalapeño Peppers with a Jalapeño Margarita," spicy. Heat up Farm Rich Jalapeño Peppers according to the package directions and serve with a Simple Jalapeño Margarita.
Simple Jalapeño Margarita Recipe
2 oz. tequila
1 oz. orange liqueur
1 oz. agave syrup (or simple syrup)
¾ oz. lime juice
½ fresh jalapeño
Lime wedges
Directions
Fill a cocktail shaker with ingredients and ice. Shake well and pour into a salt-rimmed glass and garnish with lime.