FARM RICH DEBUTS THREE NEW MEATBALL FLAVORS
FARM RICH DEBUTS THREE NEW MEATBALL FLAVORS
ST. SIMONS ISLAND, Ga. (Aug. 10, 2023) – Farm Rich Meatballs have been a fan favorite for years. Now, the popular snacks and appetizers brand has introduced three fun flavors to its meatball lineup: Meatballs with Pizza Style Seasonings, Maple Bacon Meatballs and Meatballs with Cheeseburger Style Seasonings. All are available now at Kroger stores nationwide.
Meatballs with Pizza Style Seasonings Rolling the "za" into "amazing," these beef and pork flame-broiled meatballs are made with zesty pizza-style herbs and seasonings. Each serving has 12g of protein.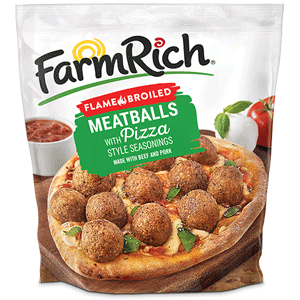 Maple Bacon Meatballs Delicious, flame-broiled pork meatballs made with maple syrup and real bacon, the new Maple Bacon Meatballs make for a tasty appetizer, breakfast casserole or just when you're craving a filling, bacon-y snack. 13g of protein in each serving.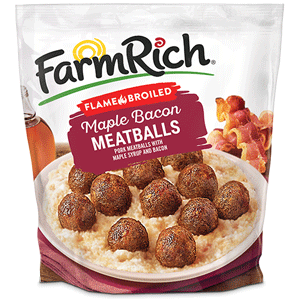 Meatballs with Cheeseburger Style Seasonings Homestyle beef and pork meatballs are packed with cheeseburger flavor and 12g of protein. These flame-broiled cheeseburger meatballs are perfect for sliders and will have the kids begging for more.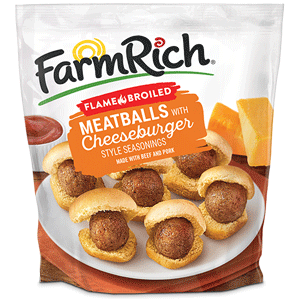 The meatballs can be prepared in a microwave, stovetop, conventional oven or slow cooker. The standard retail price for each product is $7.99. Visit Where to Buy at FarmRich.com to find these new products near you.
"These new meatball flavors bring fun innovation to this product category with unique flavor experiences that appeal to a wide variety of tastes, including kids," says Meghan Ozamiz, Farm Rich Director of Marketing. "Farm Rich now has one of the largest selections of frozen meatballs available at grocery, and we plan to expand these newest products into more retail locations in 2023-2024."
About Farm Rich
Farm Rich has been making some of America's favorite frozen snacks since 1982, including the brand's #1 bestselling Mozzarella Sticks. A division of Rich Products, the company is based in St. Simons Island, Ga., and features a full portfolio of frozen snack and appetizer products, as well as plant-based food offerings, made for snacking when you want, how you want. All products are made with wholesome, great-tasting ingredients, and sold at grocery and club stores nationwide and online. For products, nutritional information, recipes and more, visit FarmRich.com.
###